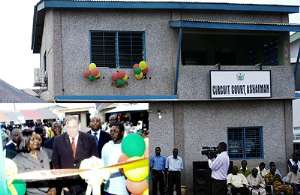 Chief Justice, Georgina Wood (Left) and Mr Deon Van Zyl, Head of South Africa Prisons (middle) at the Official Openning of the Ashaiman Circuit Court.
The Chief Justice (CJ), Mrs Justice Georgina Wood yesterday appealed to the Municipal authorities in Ashaiman to make land available to the Judicial Service to enable them construct a new court complex for the area.
She said the court complex, which will comprise of juvenile, district and circuit courts will go along way to enhance the justice delivery system in the area.


Mrs Wood made the appeal at the inauguration of a new Circuit court for the Ashaiman Municipal area.
Before the setting up of the new court, the people in the area had to travel to Tema and other places to access courts to have their cases resolved.


'You will all agree that opening a Circuit in Ashaiman is long over due. Indeed we have not kept pace with the Court population ratio so as to meet with new challenges. This new building gives us the capacity to effectively manage this growth in demand for justice,' she added.


Mrs Justice Wood also commended the Municipal Chief Executive for his foresight, handwork and commitment to the development of the area that has brought about the setting up of the court.


She said the decision to site a Circuit rather than a District court in the community was based on purely jurisdictional grounds.


She said a District court will be limited for jurisdictional reasons from entertaining some of the more serious criminal offences that may be committed in the community compared to a Circuit court, which may not have any such restraint.


She urged court officials to treat all the users with the utmost dignity, respect and courtesy, and not indulge in any dishonourable activities that will bring the administration of justice into disrepute.


'The whole business of court is about the people, not about us, members of the service. As I have stated on other occasions may I reiterate that people in court are people in distress and we should do all that is in our power to alleviate their suffering and not make it worse,' she said.


Mrs Justice Wood also called on the people in the community to embrace the Alternative Dispute Resolution (ADR) scheme which she said will go a long way to assist them have their civil disputes and relatively minor cases amicably resolved.


She said the Ashaiman community, which already has well-established ADR foothold should make it relatively easy for the effective integration between the court and the ADR programme in the resolution of disputes.