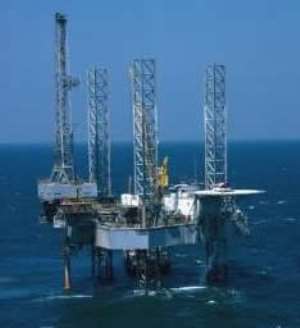 Kosmos Energy and its partners are expected to bring in four oil rigs to facilitate early production of oil, which was discovered in commercial quantities at the Cape Three Points in the Western Region.

One of the rigs, called Blackford Dolphin, is expected to arrive in the country in two weeks to begin the drilling of oil wells.
According to the Chief Executive Officer of Kosmos Energy, Mr Jim Musselman, the remaining three rigs were expected in the country before the end of the last quarter, of 2009.
The other rigs, namely Eirik Raude, Aban Abraham and Atwood Hunter, are expected in November 2008 and the first and the last quarter of 2009 respectively.
He said the rigs were expected to drill a total of 17 wells at the Jubilee Field, adding that it would cost $100 million to drill and complete each well.
Mr Musselman said Kosmos Energy and its partners would spend $3 billion between now and the first quarter of 2010, adding that a total of $5 billion would be spent on the project.
Detailing the company's plan of development, Mr Musselman said the drilling of the 17 wells was part of the plan of development and that nine wells would be produced out of the 17 in the first phase.
He said five water injection wells, as well as three gas injection wells, would be drilled in order to maximise the ultimate recovery of oil from the rocks, which were embedded 4,000 feet deep in the ocean.
Mr Musselman, who has since left for the United States of America (USA), where he is based, stated that a Floating, Production, Storage and Offloading (FPSO) vessel would also be installed for offloading, production and storage of oil.
He disclosed that more than two trillion cubic feet of gas would also be produced.
Kosmos's oil discovery in June 2007 is the largest discovery in the world in the past 12 months and the largest in West Africa in the last 10 years.
Tests have proved that oil discovered at the West Cape Three Points is among the finest in the world.