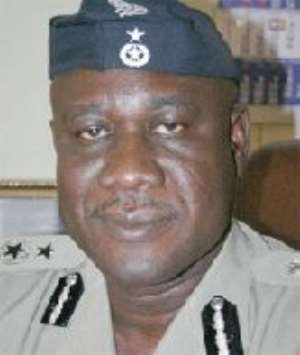 The police have confirmed receiving a complaint from the National Democratic Congress (NDC) on alleged forging of voters identity card in the Ejura Sekyedumase Constituency in the Ashanti Region.
The Director-General of the Criminal Investigations Department (CID), Deputy Commissioner of Police (DCOP) Frank Adu-Poku, told the Daily Graphic that the police accordingly gave the complainants statement forms to write their statements for the police to begin official investigations.
He said the NDC officials were even at his office on Tuesday, September 30, 2008, "and we are waiting for them to return the forms".
He, however, said as of the time he was speaking to this reporter, "I am at Agogo for the one-week observance of the late Mr Kwadwo Baah-Wiredu's demise".
According to a Ghana News Agency (GNA) report, the Electoral Commission (EC) on Monday also directed the NDC to report the alleged case of forging of voters identity card to the police.
Dr Kwadwo Afari-Gyan, Chairman of the EC, directed the NDC to submit to him a written report on the alleged electoral infraction for action.
He gave the directive to Mr Samuel Ofosu-Ampofo, National Organiser of the NDC, and Mr Mohammed Issifu Pangabu, NDC MP for Ejura Sekyedumase, when they called on him in his office to show him more than 122 voters ID cards purported to have been retrieved from a leading member of the New Patriotic Party in Sekyedumase.
Dr Afari-Gyan, after examining the document, said the situation was amazing because all the documents originated from the EC.
Mr Pangabu told the EC that the voter ID cards got to him through one Emmanuel Owusu, 22, the son of Mr Alex Manu, a leading member of the New Patriotic Party (NPP) in Sekyedumase.
He said Emmanuel was heard bragging that his father had in his possession a lot of voter ID cards.
When he was challenged, he brought about 122 voter ID cards to those challenging him.
Mr Pangabu said Emmanuel was asked to go and bring the rest of the voter ID cards and when he went for the rest, the father beat him mercilessly and threatened to kill him.
Emmanuel was released by one of his brothers, who forced the window open to let him out.
Mr Pangabu said Emmanuel took refuge with him, while he informed the NDC headquarters in Accra about the incident and was instructed that for the security of Emmanuel and others they should come to Accra.
Mr Ampofo told the EC that they had brought the incident to the knowledge of the EC because of its call on political parties to assist it to clean the bloated voters register.
Story by Albert K. Salia