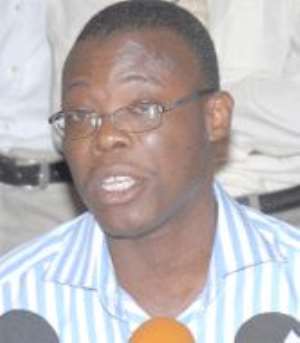 The National Democratic Congress (NDC) has urged Ghanaians not to take the current promises contained in the manifesto of the New Patriotic Party (NPP) seriously because they failed to deliver on such promises in 2004.
It said the NPP made a plethora of promises as contained in its manifesto before the 2004 elections but failed to deliver.
At a press conference in Accra on Wednesday, the Propaganda Secretary of the NDC, Mr Fiifi Kwetey, described the promises as fantastic but lacked credibility for which the NPP should be removed from power.
He said although the NDC had over time exposed the falsity that the economy under the NPP had moved forward, "Nana Akufo-Addo and the NPP have continued to peddle the same lies as they campaign from one spot to another".
On housing, he said the NPP manifesto of 2000 outlined the party's plan to promote home ownership among Ghanaians but said up till now, the party was unable to deliver any housing units to anybody.
Mr Kwetey also spoke about the promise by the NPP to expand rice production in the country, resuscitate the Aveyime project and also cut rice importation by 30 per cent.
"After eight long years, local rice production has virtually collapsed and the rice import bill, which stood at about $100 million in 2000, and was at the time widely condemned by Nana Akufo-Addo, has now crossed the $400 million threshold," he said.
He debunked a statement attributed to the flag bearer of the NPP that all it took to educate the schoolchild in a public school at the basic level was 25 pesewas a month.
"It is sad enough that the NPP candidate is insulting the intelligence of suffering parents by declaring that 25 pesewas, the payment of which sometimes delays up to two terms, caters for all the expenses guardians are making to educate their children," he said.
Mr Kwetey said it was practically impossible for those claims to be verified because a large chunk of the 25 pesewas went into purchasing of washing bowls, organisation of school management committee meetings and repairs of furniture, windows, among others.
"What further evidence do we need to understand that the NPP candidate and other officials believe that the more they continue to repeat the same lies, the more the people of Ghana will start to believe the lies?" he asked.
Mr Kwetey urged the public to speak against the NPP's attempt to take Ghanaians for a ride by engaging in deliberate distortions and making empty grandiose promises.
Story by Timothy Gobah