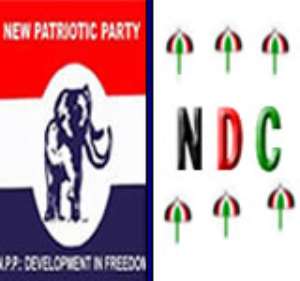 The National Democratic Congress (NDC) is painstakingly drawing up a list of suspected corrupt New Patriotic Party appointees to try at the law courts in the possible event of it winning the December 7 general election.
The populous opposition party is also compiling a number of projects, programmes and divestitures carried out by the NPP government that looked too shady to gloss over and prosecute at the law courts. The list of the divestiture projects is topped by the sale of 70% state shares in Ghana Telecom.On the programmes, insiders confided in The Heritage Newspaper that the celebration of [email protected] and all the projects executed in its name would be subjected to strict scrutiny. The building of houses supposedly
for heads of state and other dignitaries that were expected at the Golden Jubilee and how those buildings and luxury cars procured for the ceremony have since been disposed of would also be put under powerful microscopes.
"We will jail them one by one, just as they threatened to, on ascending to power in 2001; never mind they failed to jail all - but Selormey, Kwame Peprah and Tsatsu Tsikata," a member of the NDC national executive told The Heritage Newspaper on condition of strict anonymity.
The NDC executive had called on the newspaper to commend it on recent stories it carried on the sale of plots of land near the Peduase Lodge in the Eastern Region, and buildings put up at the Cantonments suburb of Accra to house august visitors during the nation's 50th anniversary.
Checks with influential executives of the former government party did not only confirm the threat, but also added that the hosting of Ghana 2008 soccer fiesta particularly the building or rehabilitation of Tamale, Essipong, Baba Yara and Ohene Djang Stadiums would be probed thoroughly for the detection of possible malfeasance.
The construction of first-class roads, of which the government party so much boasts, could also turn out to be its Achilles heels: the NDC says it would prove the Mallam-Yamouransa; Agona Nkwata-Tarkwa, Nkrumah Circle-Achimota; Adenta-Mamfe; Apedwa Junction-Kumasi and all other expensive roads constructed under the Agyekum Kufuor-led NPP administrations."We would have 'co-opted' Kwadwo Baah-Wiredu into the Mills government the way the Armed Forces Revolutionary Council co-opted General Joshua Hamidu and used him to expose the Supreme Military Council
I and II members. That is why all of us, including the Old Man (J. J.
Rawlings) are saddened by the shocking death of their fine finance
minister." That was a top notch of the NDC who walked to our offices.
This national executive and some bigwigs of the Atta Mills campaign team who also insisted on strict anonymity maintained that, though the NPP had sailed to power on the wings of Zero Tolerance for Corruption, many of its appointees "had corrupted themselves worse than any other party in government in the 51 years of Ghana's nationhood."While some premised the
desire for a merciless probe of the NPP on the need for a "clean slate," unearthing of any stinkers before the NDC takes over; one former security boss boldly told The Heritage Newspaper, "We will do witch-hunting without a shame! After all, is it not tit-for tat, butter-for-bread?" To him, "whatever the rainy season displayed should be replicated by the dry season."
The NPP's reaction to the threat to the freedoms of un-numbered ministers, district chief executives, heads of boards and corporations and even men in far higher positions remains divided.A former national executive of the NPP who served also as a minister told The Heritage Newspaper "let the NDC come
today, today and now. Let them probe and probe and probe; they won't discover a pin against me. My hands are crystal clean."
To another NPP member who is also a minister, the proposition or threat to probe and possibly punish NPP appointees for corrupt practices is far-fetched. "But who told them that they are being consigned to opposition for 30 years and so how can they come to power to pursue their daydream?" he asked the paper.
He, at any rate, added, "I make no admissions, though."