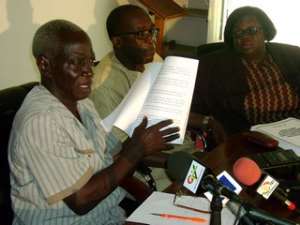 The Electoral Commission on Thursday outdoored a pro-active electoral educational programme to inject confidence and safeguard the December Presidential and Parliamentary polls.

The educational programme captured in a simple 19-page booklet captioned;
"A Guide to Candidates And Their Agents," is a repackage of Constitutional Instrument (C. I.) 12 and 15; Political Parties Act 574 and sections of Act 451.

Part one of the booklet focuses on qualification for presidential and parliamentary aspirants; part two on the role of polling agents and their role on Election Day and part three gives general information about elections modalities for appointing polling and collation agents.

Launching the booklet; Dr. Kwadwo Afari-Gyan, EC Chairman said it contained salient information about the electoral process that would aid the candidates and their polling agents to contribute effectively towards the delivery of free, fair and transparent elections.

He said: "being a candidate is an honour, but also a challenge and hopefully an expression of your willingness to serve our people and advance our democracy.

"Every candidate is permitted to conduct his or her campaign freely within the law. As you face the challenges and with the people of Ghana."

Dr Afari-Gyan, urged the aspirants to play it fair with other candidates and with the people of Ghana; "the manner in which you conduct your campaign will, no doubt have a bearing on the whether or not the elections take place in a peaceful and orderly atmosphere."

On the role of Polling Agents, the EC Chairman said being a polling agent is a position of trust, not only for the candidate or party that appointed the person but also for the credibility of the elections.

"If you play your watchdog role well at the polling station, you will contribute immensely to the acceptability of the election results," he said.

Dr Afari-Gyan pledged the commitment of the Commission to uphold fair and transparent conduct of the elections; however, it is mindful that achieving free and fair elections is a collective responsibility of all stakeholders.

Mrs. Augustina Akosua Akumanyi, Deputy Chairperson of the National Commission for Civic Education (NCCE) who chaired the launch appealed to all democratic stakeholders to play by the rules.

She urged the EC, Political Parties, Media, Civic Educators, and the Security agencies to collaborate to ensure that the nation maintains its unity throughout the process leading to election and afterwards.

The launch, attended by leading members of the political parties, media practitioners, democratic stakeholders and a cross-section of the public was organised by KAB Governance Consult.