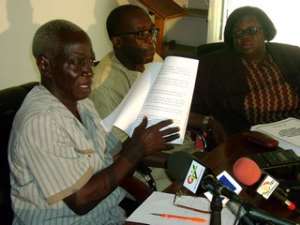 Dr. Kwadwo Afari-Gyan, Chairman of the Electoral Commission (EC) of Ghana on Thursday noted that though the EC incurred extra costs in the registration exercise, government had resourced it to effectively carry out the 2008 elections.
He said the extra cost incurred was as a result of multiple registrations by individuals including minors and foreigners either to acquire loans, clear monies from the bank or for some fraudulent activities.

Dr Afari-Gyan said this at the First Public Forum and National Meeting organised by the Civic Forum Initiative (CFI) under the theme: 'Cleaning the voters' register for peaceful and credible elections in December 2008'.

The CFI operates on the idea that citizens in various communities were the major stakeholders in democratic elections and not the political parties.

He said the EC would therefore separate the new register from the old on the forthcoming exhibition of the voters' register to ensure that minors and foreigners in particular were taken off the list.

Dr Afari-Gyan warned that there was no need for any individual to change his particulars since the EC carries out continuous registration to update the register, adding, "The EC would on subsequent registration insist on documentation to ensure that the right people register".

Rev. Dr Fred Deegbe, Executive Secretary, Christian Council of Ghana called for community involvement in the electoral process to check electoral fraud, saying, "I call on all of you to be vigilant as the price we pay for democracy is being vigilant."

Dr Emmanuel Akwetey, Executive Director, Institute for Democratic Governance said the CFI was campaigning for civic and community actions in support of the cleaning up of the voters' register.

"It is citizens who should exercise their civic responsibilities by ensuring the clean voters' register", he added.

Dr Akwetey noted that the CFI would also serve as a platform to enable civil society actors to participate collectively in dialogue with the EC and political parties on matters pertaining to the efficient management and integrity of the electoral process.