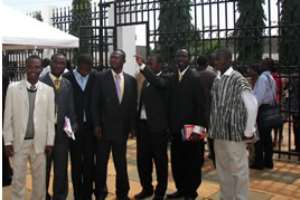 The National Union of Ghana Students (NUGS) has elected new national officers to run the affairs of the union.
Speaking at the handing over ceremony in Accra, the new NUGS president, Ishmael Tweneboa-Kodua said he was committed to moving the union forward.
He said it was his objective to make education a true and sincere priority in Ghana.
Mr. Tweneboa-Kodua said he had staked and won the claim for excellent leadership and was determined to maintain that tradition.
He stressed the need for national officers to shelve their sectional, ethnic, religious, and political interest in the interest of the students of Ghana.
According to him, the students of Ghana had overwhelmingly endorsed him at the union's congress at Nyankpala in the Northern Region and that he would not disappoint them.
He hopes to get a permanent secretariat for the union which has remained illusive.
He subsequently appealed to the government to demonstrate its commitment to empowering the youth by helping the union to acquire a permanent secretariat.
The new NUGS president expressed regret that although it was the responsibility of civil society organisations, political parties, NGOs and governments to empower the youth, these groups had failed NUGS.
Touching on the December elections, Mr. Tweneboa-Kodua said the union will monitor keenly the conduct of the elections.
He challenged the Electoral Commission to "deliver once again credible elections for this country".
He was worried that the Chairman of the EC, Dr. Kwadwo Afari-Gyan appeared to be expressing hopelessness when he called for support to clean the register.
According to him, the very political parties that caused the mess could not be trusted to sincerely help in cleaning the register.
He appealed to the EC to employ the latest technology to clean the voters' register "and not give any loser in the elections a reason to use the gullible members of our society to cause mayhem in country".
He warned that NUGS will expose any student(s) who allow themselves to be used to create chaos in the country.
Mr. Tweneboa-Kodua condemned the violence that has characterised political campaigns in some parts of the country.
He stressed the need for the perpetrators of the violence at Gushiegu to be punished to placate the victims and deter others from engaging in such acts.