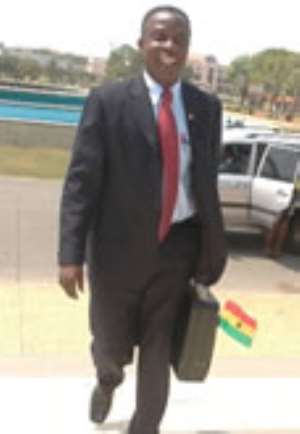 Mr. Andy Appiah-Kubi, the main challenger to the late Finance Minister, Kwadwo Baah-Wiredu, for the New Patriotic Party's Asante Akim North parliamentary seat, is an angry man contemplating court action against people he says have maligned his good name.
Following Baah-Wiredu's sudden death in a South African hospital about a week ago, some members of the party in the constituency have been pointing accusing fingers at the businessman as being responsible or having something to do with the death.
Appiah-Kubi told Joy FM's Super Morning Show this morning that he has been angered by the wild accusations, following which he has built substantial evidence to seek the prosecution of his accusers in court to clear his name.
He told show host Kojo Oppong-Nkrumah that following the widespread accusations, which he found ridiculous, he sent out photographers to capture his accusers as evidence and they would have to prove their case or suffer the penalties thereof.
When word got to the constituency last Week Tuesday about the sudden death of the Minister, some party youth readily took to the streets of Agogo carrying placards that insinuated that someone may have had a hand in Baah-Wiredu's death. That was during a visit to the constituency by Nana Akufo-Addo, NPP flag-bearer for the December Elections.
On that occasion, Appiah-Kubi went to a local radio station to protest his innocence and to caution those maligning him that it was unfair to carry on with that agenda, explaining the circumstance of the Minister's death in South Africa.
"And I told them that I knew that some of the people did not understand what they were doing, and some of the people also did not appreciate the legal consequences of their actions and therefore, at that point in time, I said that I forgave them for what they had done and advised that they should desist from it.
"And I took the opportunity to also explain the circumstance to them that it is not possible for a human being to take the life of another and that my brother went to South Africa to seek medical attention. It is quite unfortunate that we have lost him in the process, but that notwithstanding, it is also not proper for them to malign anybody and accuse him of having caused or masterminded, or having had a hand or having had anything to do with the death.
"I have also told them that I have integrity to protect, I have my image to also protect and I will not allow people to drag my image into the mud and therefore subsequent actions like that would meet my exercise of my legal rights."
According to Appiah-Kubi, he will be seeking appropriate compensation from his accusers, and he hoped the court action and subsequent punishment will also deter them from maligning people "in the name of party organization or in the name of membership of an organization."
Story by Isaac Yeboah