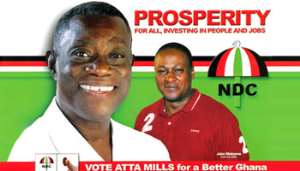 The National Democratic Congress says it is all set to launch its manifesto this weekend under the theme "Building a Better Ghana".
Ahead of the launch the party issued a summary of the manifesto following what it said were "numerous requests for information about its Manifesto, which charts the path for building a better Ghana."
A statement signed by the party's Director of Communications, Hanna S. Tetteh, said the summary contains the major points of action for an NDC Government to get Ghana back on track.
"We are therefore making available to the public online the Highlights of the NDC's Manifesto developed under the theme "Building a Better Ghana", where we elaborate on our key themes of investing in people, jobs and the economy and ensuring a transparent and accountable government.
"Please note that the actual Manifesto Document will provide more detail on these key themes and the actions of an NDC Government, this document now being released, is an overview, which will give the media and the public more insight of what is yet to come."
Click to download Manifesto.