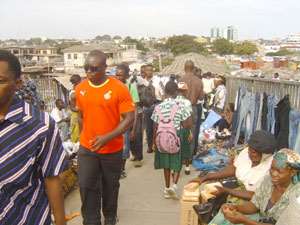 The new pedestrian footbridge, near the Ebony Restaurant at the Kwame Nkrumah Circle, is gradually being taken over by hawkers, who have turned the place into a market.
Both day and night these traders display wares, including ladies' and gents' underwear, denim clothes, footwear, toys, and many others, that cannot be mentioned here for lack of space, along the rails and the floor of the footbridge.
This practice has started making access to and fro the Kaneshie Station, at the Kwame Nkrumah Circle, a nightmarish experience, since it becomes difficult as one has to wade one's way through the maze of hawkers and their clients, who have virtually taken over the pedestrian access route.
Most irritating, is the phenomenon of people patronising wares displayed on the floor. These people, including ladies with protruding behinds, turn their backs against the thin access way left for pedestrians, and bend down to pick and choose those things they want to buy from the vendors.
Some of these people even decide to try shoes on the footbridge, this they do clumsily, leaving no space at all for passers-by.
Another menace, that has started developing alongside the hawking, is the invasion of the footbridge by pick-pockets, as it pertains on the Kaneshie Footbridge.
As people bend down to buy, and others hustle for space to cross the bridge, the pick-pockets take advantage of the innocent and careless, and steal from them. Interestingly some of these social deviants, dress so well these days, looking like any ordinary worker or student in town, making it difficult to identify them, unless they are caught in the act.
The Metro Guards, whose duty it is to ward-off the onslaught of these petty-traders, seem to have also abandoned their duties, giving the traders a field day to ply their trade.
When the Accra File sought the to know, from some of the hawkers, as to whether the Metro Authorities had allowed them to hawk around that place, some claimed the Metro Guards accepted tips from them, to turn a blind eye to their activities.
Some also claim that the Metro Guards believe their being up there keeps them off the streets and pavements – robbing Peter to pay Paul.
"We would stay here till after the December Elections," quipped one of them, adding that no one could sack them from there.
The Accra File believes that the Accra Metropolitan Assembly (AMA) would need to take action on some of these activities, if they really want to ease the congestion on the streets.
This is more important, when there are still so many empty market stalls in the new Pedestrian Mall at Odawna, just a few metres away from this footbridge, where some of these hawkers could be allowed to ply their trade.
Since some of them complain that the fees being charged for the stalls were way above what they could afford, government could subsidise it for them, through a form of social intervention.