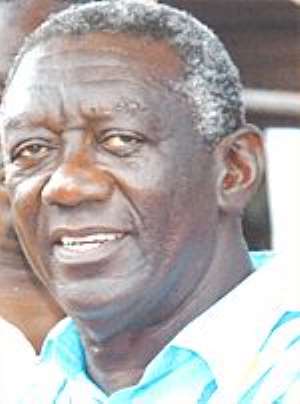 The President, John Agyekum Kufuor, has urged parents to provide favourable conditions for learning and the proper development of their children at home.
"Instead of small toys that easily break or dolls that do not really task any child's intelligence, make a habit of buying books for your children.
Remember that the home is the first classroom and as such you must make time and have interest in the work of your children," he emphasised.
The President gave the advice at the 10th anniversary celebration and Speech and Prize-giving Day of the Mary Mother of God Counsel School in Accra.
The President, whose speech was delivered on his behalf by the Minister of State for Water Resources, Works and Housing, Mrs Cecilia Dapaah, said the early years of a child's life were the most important.
"At this stage habits are formed therefore, if a child falls in love with reading, a lawyer could be in the making.
If a child loves to solve maths problems, an engineer could be in the making," he said.
He said the government was interested in the future of children as such it had introduced policies that would make their educational lives more productive.
He pointed out that technical education was a critical part of his government's policies as a result it had begun upgrading and modernising all the 26 technical institutes in the country, in order to make technical education very attractive to help change the notion that technical schools are meant for children who are not smart.
The Minister for Energy, Mr Felix Owusu Agyepong, who was the guest speaker for the occasion, advised the students to abide by school rules and to be committed to acts of discipline and obedience in their daily lives.
"If students are highly disciplined and obedient to both their parents and teachers, they will attain high academic levels and contribute meaningfully to national development," he stressed.
The Headmistress of the school, Sister Elizabeth Paula Nkansah Otchere, in her report mentioned, among other things, that the school scored a 100 per cent pass in its maiden BECE with the lowest aggregate being eight.
She said it also placed second in the 2007 Citi Fm/KLM sponsored essay writing competition.