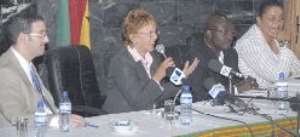 A panel has identified political campaign financing as critical to consolidate free and fair elections. They, however, maintained the need for stringent monitoring measures to ensure that the process was not abused in order not to undermine the democratic process.
Two resource persons from the US — Ms Roselyn O'Connor, President of the National Women's Political Caucus in the US, and Professor David Ian Lublin of the Department of Government, American University — led the panel discussions with assistance from Ms Hanna Tetteh, Communications Director of the National Democratic Congress (NDC), and Nana Ohene Ntow, General Secretary of the New patriotic Party (NPP), two Ghanaian resource persons.
The half-day panel discussion on the 2008 elections in Ghana and the US covered issues on voter registration, campaign laws, abuse of incumbency, campaign financing, the elections, election observation and the settlement of election disputes.
It was organised by the Institute of Economic Affairs (IEA) and the United States Embassy in Ghana as part of efforts for Ghana and the US to share refreshing insights, experiences and lessons for their mutual benefit.
Ms Roselyn O'Connor pointed out that in the US sometimes attorneys were hired to help politicians understand election laws particularly regarding campaign financing because they were stringent and complex.
"You have to not only account for every penny you receive but also show how you got it even from individuals," she indicated.
She said in the US politicians and political parties filed their financial reports electronically so that people could go on line to access them and find out who donated what.
Failure to declare publicly your financial report, Ms O'Connor indicated, could get one into serious trouble.
She, however, disclosed that through the public financing act individuals who did not have money could participate in the election process after satisfying a set of laid down electoral rules and regulations.
On abuse of incumbency, Ms O'Connor said as congressional candidate she had to run an election against an incumbent and it did not come easy because there were a whole lot of incumbency advantage.
"If you are a challenger to an incumbent, good luck," she insisted.
She, however, commended the Republican Presidential Candidate for the November elections, Senator John Mcain, for working so hard to distance himself from incumbency advantage.
She said by bringing Senator Sarah Palin as his vice-presidential candidate, he was also sending a signal that he was a reformer and an independent person.
Prof. Lublin for his part said in the US democratisation through technology was now a thing of the moment where individuals and organisations could go on the computer and donate towards a political party interest.
He said Democratic Presidential candidate Obama was using this extensively and had raised $250 million through the Internet.
"If you donate through the Internet you get a regular email from Barack Obama to signify that he is your friend and has a direct relationship with you," he told the gathering.
He said the US had a long established democracy yet experienced some challenges as was witnessed in the 2000 elections.
He said "democracy is not a train and one moment it arrives at the train station" but a continuous process that required practices of the best standards.
He said Americans valued freedom of speech and had committed themselves to uphold those cherished values.
Ms Tetteh on her part said campaign financing, if not closely monitored, could have security implication "because nobody supports a party for free".
She pointed out that in Ghana the minority parties lacked resources and facilities that otherwise were available to the incumbent government.
This, she explained, did not allow for a fair and balance campaigning in order for the minority parties to get their messages across to the populace.
She recalled that when the NDC was also in government it was blamed for taking advantage of incumbency but added that "we are now very reformed".
"After 16 years of democratic dispensation we need a comprehensive review that will engender a voter-friendly environment so that choices will reflect the will and outcome of the electorate," she stressed.
She said the electoral system should not be seen to be frustrating, especially as witnessed in the limited voter registration exercise, and called on all Ghanaians to do whatever they could to ensure the voter register was cleaned.
Nana Ohene Ntow called for the deepening of the decentralisation programme to enhance democratic governance and accountability in the country.
Drawing fundamental differences between elections in the US and Ghana, he wondered why it was not possible to get decentralised agencies register people who attain the voting age at the local levels.
He said the big problem in Ghana was that the electoral officials themselves were not equipped and did not have any authority to challenge the identity or qualification of would-be registrants.
He said there was the need to get proper form of identification for all would-be registrants to curb the incidence of minors as well as non Ghanaians registering.
On abuse of incumbency, he said it was a tenuous subject that had raged on for a long time and usually "it is when you are in opposition that you are worried about it".
He said there was the need to look at proposals made in the Political Parties Code and put the code forward to be considered to become a law.
Mr Kwamena Ahwoi, a consultant with the IEA, pointed out that the problems of minors registering could be dealt with if the country addressed the challenges faced by the Births and Deaths Registry.
He said only 30 per cent of births got registered annually and added that "we need to decentralise if we want to have a birth registration system that will deal with minors registering".
Nana Ato Dadzie, a former Chief of Staff, in his contribution maintained that Ghana had a civilised decentralised system and said "it is a shame that today we are talking as if we are going back".
He said the Electoral Commission for instance needed to be strengthened in order for it to be seen as a functional commission.
In his view what was lacking was that either the spirit of the Constitution was not working or it was waning, and therefore called for invigorated efforts to get the country's political systems and arrangements working as they ought to do.
Story by Kobby Asmah