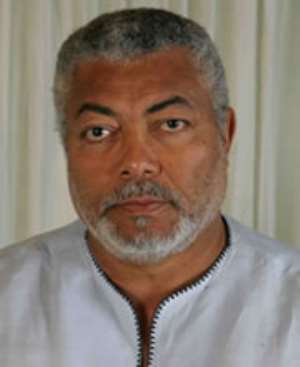 Former president Rawlings has vowed to resist any attempt by members of the NDC to stop him from commenting on national issues.
Mr Rawlings has often been criticised for damaging the party's bid to regain power with his often controversial remarks.
But such criticisms, he says will not stop him from speaking his mind because the 1992 Constitution guarantees him the right to do so.
The spokesman for the former president, Mr. Kofi Adams told Joy News the NDC founder is keen on letting Ghanaians know in his view and the truth.
"Voices will continue to be unhappy as [they] were not happy when Christ spoke the truth but for Rawlings he will always put out the truth," he said.
He said if people have difficulty defending the truth that is their business.
"Who are those who are calling themselves party gurus?" Mr. Adams asked, adding that "we have run this party up until this point so people cannot just jump in and begin to think that they must now be given front role to play against those who have kept faith with" the party.
He dismissed suggestions that the utterances of the former president were hurting the fortunes of the party.
Story by Malik Abass Daabu