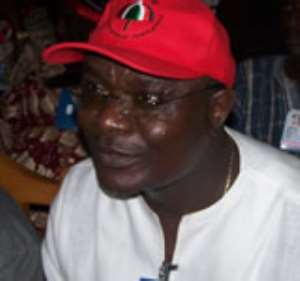 An Akatsi-based businessman, Seth Dominic Aglagoh, has filed a motion at a Ho High Court seeking an order to restrain Mr Doe Adjaho, the National Democratic Congress (NDC) Member of Parliament (MP) for Ave-Avenor, from contesting as a parliamentary candidate in the Ave-Avenor Constituency in the December 7 elections.

Mr Adjaho and four others were cited in the motion for an interlocutory injunction to be heard in the court on Monday, October 13.
The other defendants in the case are the National Chairman, the General Secretary and the Constituency Chairman of the NDC and the Chairman of the Electoral Commission (EC).
The motion also seeks an order that the name of Mr Adjaho should not be submitted to the EC and an order to restrain the EC from accepting the registration of Mr Adjaho as the NDC parliamentary candidate for the constituency.
In an affidavit in support of the motion for an interlocutory injunction, the plaintiff claimed that he was a registered and paid-up member of the NDC in the Ave-Avenor Constituency, with registration number 052.
He said in February 2008 he applied to contest the constituency primary and paid the prescribed fee of GH¢1,100 and that at the close of nominations, only two persons - he and the incumbent MP, Mr Adjaho - had filed their papers.
He said the two of them were duly vetted by the national, regional and constituency executives of the party and duly cleared as being eligible to contest the primary.

Mr Aglagoh stated that while he was patiently waiting for a date to be fixed for the primary, his competitor went round circulating letters inviting the delegates to an emergency meeting on September 16, 2008 to discuss the drawing up of a campaign strategy and the formation of campaign teams for the constituency.
He said on September 19, 2008 the delegates were invited to endorse the parliamentary candidate and that he was utterly taken aback when, at the meeting, Mr Adjaho was endorsed by popular acclamation as the parliamentary candidate of the NDC in the constituency.
The plaintiff said he had never been notified about those processes and had never been aware that he had been disqualified from contesting the NDC parliamentary primary.
He said he was later informed that he had been disqualified from contesting the primary, on the grounds that he had not been an active member of the party in the constituency for the two years preceding the filing of nominations.
He, however, said the national executive committee duly investigated the matter and dismissed the allegation, adding that the conflict resolution committee set up by the national executive of the party also investigated the allegation and cleared him of the charge.
Mr Aglagoh argued that the act of the defendants was illegal, unlawful and a violation of the NDC constitution and the 1992 Constitution and therefore, illegal, null and void.