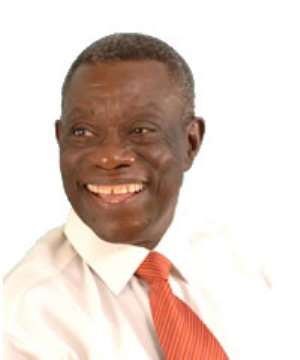 Read below a statement signed by Koku Anyidoho, Head of Communications of Professor Atta Mills' campaign team, on a story published by the New Punch newspaper, edited by Baby Ansaba.
The Office of Professor Mills is not unaware of the desperate attempt by the NPP, not finding any mud to hurl at the NDC Leader, to use its media hirelings to throw out untrue stories about the health status of Professor John Evans Atta Mills.
Last week, it was the Gye Nyame Concord that put out a totally false story about the NDC having flown in a German specialist to "pep up Professor Mills till Dec".
Realisng that he had been misled into publishing an untrue story, the Managing Editor of the paper, Alfred Ogbamey, did the honourable thing and apologized personally to Professor Mills and did a retraction of the story.
Yesterday, Baby Ansabah's New Punch also published a totally false story about how Professor Mills fell at Dome and Adenta when the latter continued with his house-to-house campaign last week in the Greater Accra Region.
Obviously, the story is intended to create the impression that the NDC Leader does not have the strength needed to continue with his very vigorous campaign which involves a lot of legging.
As far as the facts have it, Baby Ansabah was not present at any of the gatherings. Officially, none of the paper's reporters were present either.
Credible Media Houses such as, Joy FM, Asempa FM, Radio Gold, Adom FM, GTV, GBC Radio and Daily Graphic were present and we believe that if any such thing had happened, the mentioned Media Houses would have broken the story, and it would not take The New Punch to supposedly break the story almost 5 days after the event.
We state emphatically that no such incident occurred and that Baby Ansabah and his paper, at the behest of the paymasters, churned out a blatant lie.
It would be recalled that this selfsame Baby Ansabah, using his New Punch, published an untrue story to the effect that Professor Mills had suffered a diabetic attack, was rushed to the 37 Military Hospital, and how the hospital was cordoned off by a heavy military detachment.
Even the sitting President cannot get the whole of 37 Military Hospital to be cordoned off just because he is there receiving treatment.
We don't expect Baby Ansabah to apologise for the untrue story his paper published, because of the kind of person that he is and the kind of unimpressive record he has as a media practitioner. We are just out to set the records straight.
Baby Ansabah is up to no good and we are asking well-meaning Ghanaians to treat the said story with the contempt that it deserves.
Koku Anyidoho
(Head, Communications)