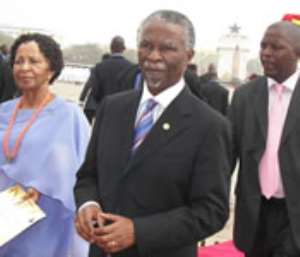 On Sunday, September 22, 2008, Thabo Mbeki announced his resignation as President of the Republic of South Africa (RSA). Not that it came as a shock. The announcement just took many by surprise because that action is not common on the continent of Africa. That decision followed accusations that Mbeki was using political pressure and manipulations to pursue corruption charges against Jacob Zuma, the African National Congress (ANC) Chairman who is generally tipped to succeed him.

In June 2005, Zuma was relieved of his post as Vice-President of RSA following the conviction of his close financial advisor, Schabir Shaik, for corruption and fraud and sentenced to 15 years' imprisonment. Even though that decision did not go down well with many South Africans, Mbeki defended his position by saying that he wanted to protect South Africa's young democracy and prove that no one was above the law. That was good, especially in the eyes ofthe Western countries who are now showing a keen interest in matters concerning democracy on the continent.
Suspicion heightened when, on December 6, 2005, rape charges were filed against Zuma for having an illicit affair with a 31-year-old woman who is a daughter of a dead comrade. That case was dismissed on May 8, 2006.
The rivalry between Mbeki and Zuma got to fever pitch in December 2007 when the two fought for the leadership of the ANC. Zuma won overwhelmingly and put to an end any ambitions Mbeki was nurturing of playing a leading role in party or government affairs after the elections in 2009.
So when, soon after the bitter and acrimonious elections, corruption charges were brought against Zuma, there were good grounds to suspect that Mbeki was up to some mischief and deliberately trying to derail Zuma's presidential ambition! His case was not made any better when, on September 22, 2008, Judge Chris Nicholson threw out the corruption and racketeering charges against Zuma, on the grounds that there had been strong political interference in the case and cited Mbeki.
It became a commonly acknowledged belief that Mbeki wanted to use his presidential powers to suffocate Zuma and dim his presidential ambitions. The ANC, within which Zuma commands a huge following, went into action and called for Mbeki's resignation or risk impeachment.

Even though Mbeki denied the accusation, he decided to step down because, according to him, he was a member of the ANC and, therefore, he had to respect its wishes.
A new President, in the person of Kgalema Motlanthe, the deputy ANC leader, has since been sworn in.

Around the same time, the Israeli Prime Minister Ehud Olmert resigned as head of the ruling Kadima Party, paving the way for Tzipi Livini, the Foreign Minister, to be elected as the new Kadima leader to become the first female Prime Minister in 34 years after Golda Meir left that office.
Olmert had been battling with corruption allegations, having been accused of misusing cash payments from a US businessman and double-billing government agencies for his foreign trips. He finally bowed to pressure and resigned so that he could face his accusers squarely.
On September 1, 2008, the Japanese Prime Minister, Yasuo Fukuda, resigned, complaining of frustrations from the Upper House of Parliament, which is under the control of the opposition. Fukuda's popularity nose dived when the economy started to backslide and he was accused of presiding over the loss of pension records and a controversial healthcare scheme.
Taro Aso took over as the fourth Japanese Prime Minister in two years.
In the same month, the Thai Prime Minister, Samak Sundaravej, was forced to resign when a court ruled that he acted in conflict of interest when he appeared on television for a fee to exhibit his cooking talents.
On a lesser note but no less significant was the resignation of Li Changjiang, the head of China's quality watchdog, following the growing scandal over melamine-contaminated baby milk, which has killed some children in China and made over 53,000 ill.
These events may appear far and remote from us but they share certain things in common, which are relevant to our situation here and from which we can draw some useful lessons. First is the need to hold our leaders accountable and demand the best from them. They should not be allowed to take us for granted but should at all times live above reproach.
What Olmert is being accused of - diverting or misusing public funds and making false claims - are daily occurrences in our part of the world over which we have very little control, if any. That is why we have made politics a lucrative business here. No one cares to know why someone who was struggling to survive can, within a matter of months, be swimming in funds and start grabbing property left and right. Any feeble voice attempting to draw attention to such a sudden windfall and to question its source is quickly drowned in a barrage of insults and name-calling. Through a well-rehearsed manipulation, the very people whose interests are being subverted are split along political or ethnic lines, allowing a corrupt official to escape with his ill-gotten booty.
The Israeli experience has proved that no matter one's status, one cannot run away from accountability and that when it comes to the national interest, one's own party will be the first to smoke one out. That is the only way we can ensure sanity in politics and get only the best and most committed to aspire to national leadership positions.

We have created a situation where most of the people who parade as politicians and want to lead this country are nothing more than mercenaries who want to feast on our national resources. Only a few have the interest of this nation at heart.

The current struggle going on among the various political parties for the attention of the electorate has very little to do with the welfare of the people and the development of this country. It is a fight to control our national resources and dissipate them in a manner they choose. Otherwise, what is the need for these life-or-death confrontations if the nation's progress is the main objective of seeking political office?
What caused the Thai Prime Minister his office could have been brushed aside here. Elsewhere, you cannot take the high office of Prime Minister for granted and certain things cannot be allowed to compromise the position of the Prime Minister who had no business going to display his cooking abilities on national television. It also shows the independence of the judiciary in that country.
This is not the first time Japan has changed prime ministers in rapid succession. But it still remains the most powerful economy in the world.
That confirms the fact that what we describe here as stability - allowing one person or group of persons to remain in power for many, many years - does not add to development if there is no clear national development agenda.
Individuals may come and go but the state machinery remains intact once a path has been beaten and the national goals have been spelt out without relying on the whims and caprices of a few individuals.
Fukuda's resignation again had its lessons.
Leaders must be prepared to bow out honourably after they have realised that for some reasons they could not realise their objectives. It does not help the state if you remain in office and blame imaginary enemies for your failure.
The Chinese watchdog man who resigned over the contaminated baby milk has sent a signal that people should be ready to take responsibility for failures that are remotely linked to them. Here, we like taking all the glory but when it is the other way round, then a poor worker somewhere must be made to suffer the pain.

Nearer home, Mbeki's resignation has taught us a lesson. He could have stayed on in office until next year, when South Africans go to the polls, or fight impeachment proceedings in Parliament. He chose a shorter route because that eliminates any bruises to party solidarity and national image. At least his honour is intact and South Africa marches on. Once it has been done in one African country, it means it can be done in other countries.
It means we should stop personalising public offices and try to exit when the applause is loudest. All the countries that experienced the September resignations - Japan, China, Israel, South Africa and Thailand - are far ahead of Ghana in terms of development, an indication that we need to change our style of leadership if we want to join the developed league.
We also need a well-informed and enlightened population that will eschew hero-worshipping and spare national leaders no room to abuse their welcome.
The spontaneous outpour of grief from all sections of the Ghanaian public at the sudden death of Mr Kwadwo Baah-Wiredu, the former Finance and Economic Planning Minister, in faraway South Africa is ample testimony that partisan politics has not beclouded our sense of recognition and appreciation and that putting political rivalry aside, Ghanaians still know those who are committed to the affairs of this nation.
The late Baah-Wiredu was a rare species who did not belong to that group of noisy politicians who always draw attention to themselves, instead of the issues. A few may not be happy with him because he did not want to turn the national treasury into a war chest to be dissipated carelessly by a few. And that is exactly why almost every Ghanaian is mourning his death. May his soul rest in peace.
Credit: Kofi Akordor
Source: Daily Graphic