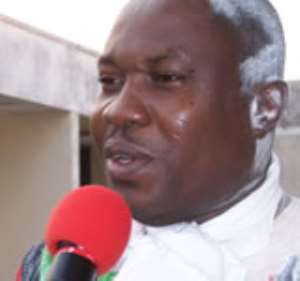 Mr Samuel Ofosu-Ampofo, National Organiser of the National Democratic Congress has warned that the leadership of the party would not countenance any acts of vandalism by members, supporters or sympathizers.
"We want to live by our flag-bearer's (Prof. John Atta Mills) accolade as 'Asomdweehene' since the December elections would not be a do or die affair," he said at Berekum, after visiting some persons who sustained injuries in a recent political violence that rocked the town.
Supporters of the two main political parties - the New Patriotic Party and the National Democratic Congress last week Sunday clashed with stones, sachet water and other weapons in the centre of the town, leaving some of them, including a police officer, with injuries.
Mr Ofosu-Ampofo said the NDC was committed to peace, citing that it had held smooth and violence-free primaries in all the 230 constituencies.
"We must rise above such incidents since the December elections will be the fifth in the Fourth Republic and we need to exhibit maturity," he said, as he consoled Master Salifu Musah, a 23-year-old final year student of Accra Training College on holidays who suffered machete wounds.
The National Organiser reiterated that the NDC was committed to peace and would not countenance any acts that would reverse the country's progress.
He however cautioned that "our opponents should not take undue advantage of our quest for peace and engage in acts that will provoke us."
Mr Ofosu Ampofo later called on Chief Superintendent Lord Obeng-Mensah, Berekum Divisional Police Commander and urged the police to remain neutral in the discharge of their duties.
He emphasised that the NDC did not have the least intention to create chaos in the country and urged the police to exhibit a high degree of professionalism in their dealings with the parties.
"Regional Security Committees and District Security Committees must rise above partisanship," he said and expressed the hope that the police would co-operate with the political parties to agree on a common security arrangement to ensure peace and tranquillity.
Chief Supt Obeng-Mensah gave the assurance that the police would exhibit professionalism and advised the leadership of the various parties to advise their members and supporters to desist from acts of vandalism.
Source: GNA