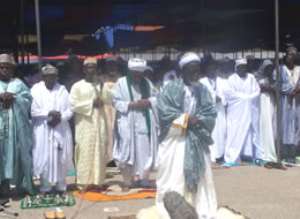 The President, John Agyekum Kufuor, has challenged Moslem parents to send their girl child to school.
He said parents ought to encourage their female children to aim high since there are various avenues they can excel in like their male counterparts.
Speaking at a ceremony to commemorate the climax of this year's Eid ul Fitr on Tuesday, President Kufuor cited the Chief Justice, ministers of state and other big position holders as examples that young girls could aspire to.
He said the new education reform has also changed the face of education in the country, and urged parents to take advantage of the Capitation Grant and send their wards to school.
President Kufuor also asked fellow Ghanaians to work hard to sustain the national economy.
He appealed to Ghanaians to exercise patience and keep faith with the government to relieve them of poverty.
"The time has come for Ghana to recapture the spirit of the Gold."
On the December elections, he asked Ghanaians to support the Electoral Commission (EC) to ensure transparent, free and fair elections.
He said the EC alone cannot guarantee credible elections, hence the need for the entire society to invest in it to prevent a few people from "hijacking it".
President Kufuor also called on the EC to use the flaws in the recent limited voters' registration exercise as a lesson to improve on the elections.