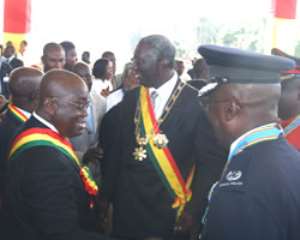 President John Agyekum Kufuor has been named winner of yet another award to show for his sterling stewardship as he enters the twilight of his two-term presidency.
Chatham House, home of UK's Royal Institute of International Affairs announced on Monday the President will receive the 2008 Chatham House Prize for his tireless and selfless mediation in multiple crises across the continent during his chairmanship of the African Union in 2007.
The award is also in recognition of the President's positive role in mediating conflicts with Ghana's immediate neighbours, including Liberia and Cote d'Ivoire, as well as making economic growth a priority and contributing to social freedom and the development of a robustly free press in Ghana.
His two term, almost eight-year presidency has been studded with many honours, including the Order of the Star and Eagles, the nation's highest honour he created mid-year as part of a list of national awards, and of more recent, (August 21, 2008), the "Merit Award for Excellence"from the African Association of Quantity Surveyors in recognition of his contribution towards the development of Africa and especially Ghana, an honour he shares with the legendary Nelson Mandela of South Africa.
The annual Chatham House Prize is awarded a statesperson deemed by Chatham House members to have made the most significant contribution to the improvement of international relations in the previous year.