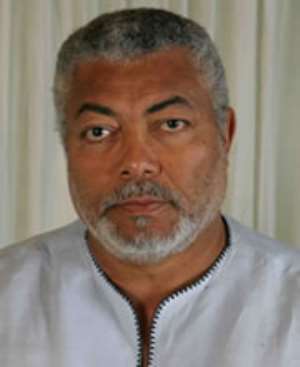 Former President Jerry Rawlings has congratulated all Moslems in Ghana and the world at large for successfully completing their month-long fasting (Ramadan).
He said on the occasion of Eid ul Fitr, the sacrifice of self-denial for a month-long period is of great religious value – serving as protection and an occasion to share with the less privileged.
A statement issued by the former president said as they community celebrates the significant occasion, it should not forget the Koranic admonishment not to over-indulge but to "exhibit the virtues of patience, sacrifice and humility, which are the hallmarks of the fasting process – Ramadan."
Read the full statement below.
HAPPY EID TO ALL

On the occasion of the conclusion of the month-long Ramadan culminating in the celebration of Eid ul Fitr I wish to extend my warmest congratulations to all Muslims and Ghanaians.

Eid ul Fitr is replete with significance. Fasting for a period of one-month is of great religious value and there is no doubt that such sacrifice goes a long way to protect us as a people.

Allah's blessings are bestowed upon us multiple-fold as we supplicate him and do away with worldly pleasures.

When we celebrate Eid ul Fitr we share what we have with those around us and give alms to the less fortunate.

These acts of selflessness should not be forgotten once we conclude today's celebrations.

As we celebrate we should not forget the Koranic admonishment not to over-indulge after a month of sacrifice.

At Eid ul Fitr we need to exhibit the virtues of patience, sacrifice and humility, which are the hallmarks of the fasting process – Ramadan.

As we pray to Allah to forgive us of our past sins and seek help to refrain from everyday evils and by so doing purify ourselves, we have to remember that as a country we are saddled with myriad social and economic problems.

It is thus imperative that we pray to Allah to guide Ghana through these trying moments.

We need to reflect and seek Allah's guidance as we draw close to the December 7 Presidential and Parliamentary election. The message from all Moslem leaders should be that of peace and unity. We should preach against violence and caution our youth not to become vessels of evil politicians.

The sacrifices we have made during this Ramadan period cannot be for nothing. The end result should be peace and tranquillity for mother Ghana.

To all Moslems I say eid mubarak, id sa id. Happy Eid!

God is the Greatest, God is the Greatest, God is the Greatest,
There is no deity but God
God is the Greatest, God is the Greatest
And to God goes all praise