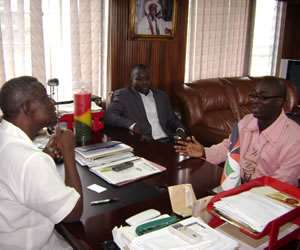 The Manageing Editor of the Gye Nyame Concord, Mr. Alfred Ogbamey, has explained that he has no regret for apologising to former Vice President John Evans Atta Mills over a CONCORD lead story which the flag-bearer of the main opposition party had a problem with.
Explaining his action to the Acting Editor, who expressed initial worries over what he called the misuse of the apology, Mr. Ogbamey said Prof Mills indeed deserved the apology because of the way and manner he handled his misgivings.
He urged the staff to see the apology as proof of the paper's cardinal principle to its responsibility.
"Yes we can argue that the said medical doctor from Germany has been seen in Prof's campaign team at one time or the other and seek to justify the story. But that in my view would be stretching truth too far because it can equally be argued that his presence does not necessarily imply that he is here because of Mills, especially when we've been reliably told that he was in the country for Mills' relative, who is not a public official anyway and is entitled to her privacy", Ogbamey said, in response to suggestions that he may have rendered the apology too quickly and without discussing it with the author.
"I take full responsibility for what goes into this newspaper and I am not about to shirk that duty", he said.
Mr. Ogbamey said though the CONCORD has had various explanations from high-up sources within the NDC that have been conflicting on the presence of the doctor and could have afforded the paper an easy excuse to justify a refusal to apologise, "Prof Mills' denial that he has not personally invited any medical doctor to Ghana convinces me that he is telling the truth."

"I was really moved by the former Veep's willingness to accept our apology in good faith. He was frank enough to discuss a number of what l consider private issues with me and removed his clothes and showed me his body to prove that he had not had surgery as suggested in previous reports by other newspapers and by his one-time NDC ally, Dr Spio-Garbrah. Of course I addressed his mind to the fact that nowhere in our story did we report that he was sick and that the CONCORD report indeed stated that he was hale and hearty."
According to Ogbamey, the NDC leader countered his argument by stating that any story on his health feeds into an already existing perception created by some members of his own party and the media and advised the Managing Editor, whom he had privately met a number of times previously, to endeavour to reach out to his team or to him personally when issues concerning him come up.
Ogbamey repeated his earlier statement on radio that the story had come from the opposition party itself and had been explained as a means to disabuse the public mind from a possible propaganda by the ruling party.
In response, Prof Mills said he did not expect everyone within the NDC to fully support him just as he does not expect everyone in the ruling party to wish him evil. In that sense, he urged the paper to verify things that affect him from those who specifically speak for him.
"We should be happy we did what we did", Ogbamey noted, arguing that the apology killed the mischievous arguments that could have been equally made with the unfortunate death of Hon Baah-Wiredu.
The Editor said what was important is that those who matter in the NDC know that we were not motivated by mischief as they initially suspected.
"At least they know that we are a responsible newspaper which will do the right when we are convinced about it. As for the use of the apology, it should be the least of our concerns. If the NDC indeed believes that our apology is necessary to further confirm to doubting thomases that Prof. Mills is indeed well, so be it. I have always argued anyway that the man looks fitter, healthy, hale and hearty. Indeed he looked the same way when l saw him Wednesday," Ogbamey said.
The Managing Editor of the CONCORD met the former Veep last Wednesday to apologise to him following expressions of worry by some leading members of the NDC to him.
The report in contention said a medical doctor from Germany had been flown into Ghana by the NDC to pep Prof Mills up should his energy sap in the dying moments of the 2008 presidential election campaign.
RETRACTION & APOLOGY
The GYE NYAME CONCORD newspaper wishes to apologise to former Vice President John Evans Atta Mills for any undue embarrassment our lead story in the Wednesday, September 24, 2008 issue of this newspaper, headlined "NDC FLIES IN GERMAN DOC To Pep Mills Up Till Dec" may have caused him and retract the offensive parts of the report for its inaccuracy.
We also wish to express our gratitude to the former Veep and NDC flag-bearer for accepting our apology, which was personally rendered to him by our Managing Editor that same day.

Source: Gye Nyame Concord