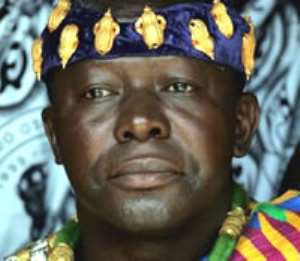 Otumfuo Osei Tutu II, the Asantehene has cautioned Ghanaians, especially the youth not to subscribe to or engage in violence as the nation prepares for national polls.
He said the nation Ghana is all we have, and if anybody had thoughts for it, it should of thoughts of her development – building schools, improving health delivery, agriculture and the road infrastructure to help convey cash crops and foodstuffs from farming communities, job creation for the youth – for a better Ghana.
Another area of importance the people of Ghana, and especially politicians seeking power ought to address, is the oil industry and how best to put the nation's discovered oil resource to use. In all these, he said, violence has no place.
Otumfuo Osei Tutu gave the advice when a team of Joy FM and Luv FM (from the Multimedia Group Limited) paid a courtesy call on him at his palace, Manhyia, Kumasi.
He said politics should not be a do-and-die affair and wondered why some politicians are so motivated to do all they can in their quest for political power.
Otumfuo, who spoke Twi, said the youth must resist all temptations to be drawn into any violence because if Ghana burns, they would be the greatest losers for it, reminding all that Liberia, Sierra Leone and several other nations have needlessly suffered bloody confrontations as a result of politics.
He again cautioned that the media are very powerful tools for communication, development and peace and should be harnessed for the wellbeing of the society, adding that moderators of radio phone-in programmes need to find convenient means to restrain contributors whose language is deemed unpalatable so as not to upset public morals.
Otumfuo said insults and maligning people are alien behaviours to Ghanaian culture and should not be encouraged, reminding all that days were when the young felt it compulsive to cede their seats to adults and when young ones spoke to their seniors with their hands respectively clasped by their backs.
He advised media practitioners to be diligent in their work and not to rush to be the first to deliver in the name of 'scooping' other colleagues, saying it would be better to take pains in publishing the fact than to rush and later apologise for mistakes.
Otumfuo also counselled the youth to be wary of politicians who would entice them to engage in violence to achieve their own ends, saying that when the politician has ultimately won power and drives about in his powerful cars, the youth would hardly be on his mind. The youth, he said, may never even set foot at the seat of government in their entire life.
He reiterated that the nation is bigger than any individual, including President Kufuor and former President J.J. Rawlings, and that no one has any special right to insist on ruling the nation. The will of the people is what must prevail at all times.
Otumfuo Osei Tutu said as a king, he embraces all to his kingdom, including politicians who pay him visits to solicit his blessing and advised against misinterpreting such occasions as endorsement for any particular office seeker.
Story by Isaac Yeboah