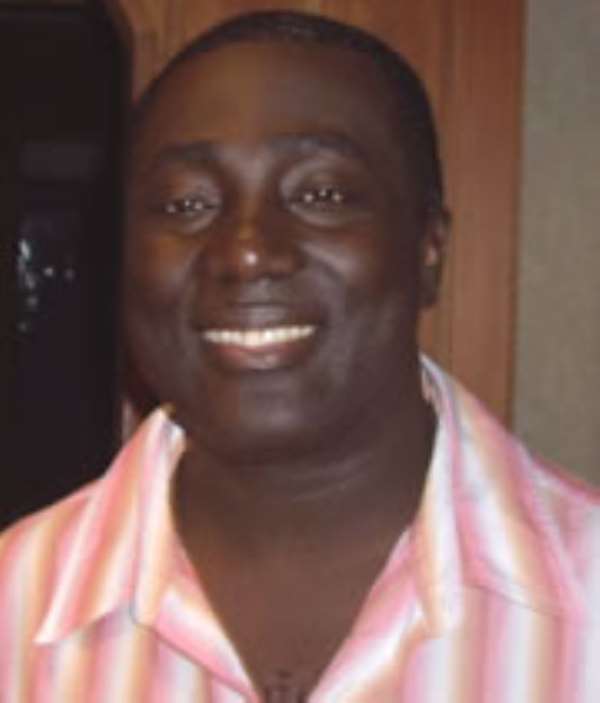 The late Ben Owusu Boakye
Ben Owusu Boakye, affable, loveable, kind-hearted and full of life, and a father to boot, was found dead September 8, a day after Fathers Day.
His body was discovered by the Accra-Tema Motorway with what appeared a bullet wound, and an autopsy confirmed he was shot, apparently, for no reason.
No one leaves their country of birth to seek greener pastures if their country is economically sound.
Our motherland Ghana has always been a developing Third World country and is nowhere close to breaking that barrier due to corruption, crime, inflation and rising unemployment rate.
It is true that Ghanaians do not hesitate to grasp the opportunity of traveling overseas to take advantage of better educational systems and job opportunities. This is all in the interest of improving our living standards and returning home to Ghana with initiatives and investments to improve our mother land Ghana so that we would eventually break the yoke of poverty and be able to call our country Ghana, a fully developed country.
This had always been the dream of our beloved, brother, father, husband, and friend, Ben Owusu Boakye.
Ben was a loving, caring, personable, just, hardworking, approachable person and would not hurt a fly.
His beautiful smile said it all. I haven't seen a picture of him without a smile. Oh! What a peaceful and calm person.
It tears me to bits to accept the news of the murder of our beloved Ben Owusu Boakye and the fact that he was shot.
The imagination of the pain, harm, torture and injury inflicted on such an innocent and loving individual beats my understanding.
Unfortunately for his family and loved ones, apart from his death being a great loss, we would forever be haunted and the motive behind his murder would always be a mystery. As Christians we are very certain that the Almighty God would reward and welcome Ben in Heaven and also pass down judgement on whoever took our Beloved Ben from us.
Natural death is unbearable but looking your fellow Ghanaian in the eye and taking their life away from them due to envy, robbery or whatever reason is unjustifiable.
Ben fulfilled his dream to invest in his country by building a Hotel which started out very small in 2005 and has grown into a serious player in the Ghanaian hotel market.
Greedy and envious Ghanaians never see the broader picture. Ben's aim of investing in Ghana was to create job opportunities for the same Ghanaians that complain of unemployment in Ghana. Even though Ben's initiative does not solve the entire unemployment crises in Ghana, it at least contributes to solving it and improving the economy at large.
As we all know Wealthy Ghanaians and Ghanaians residing abroad are the targets of heartless criminals who are too lazy to find a genuine means of income and financial stability therefore preventing Ghanaians from sleeping peacefully at night in their homes. Ironically it is now very common to see people rob during the day.
The Big Question is; should we stay overseas where we feel safe and neglect our country or come back home to improve Ghana's economical status, where we are likely to be killed?
It's high time the Government of Ghana implement strategies to ensure the security and safety of Ghanaian citizens and tourists, and also taking into consideration the fact that, remittance to the Ghanaian economy from overseas relatives, is approximately 8 billion dollars a year.
My fellow Ghanaians around the world and in Ghana, this is the time for us to voice out our concerns and opinions, because if these issues are not addressed, there would be no pride in settling or visiting Ghana.
This article is to restate the position of Ghana and to make a plea to the Ghanaian Government to act on behalf of vulnerable Ghanaian Citizens and tourists, for measures to be taken towards securing and protecting the freedom and lives of its residents.
We can't sit back and blame Nigerians, Liberians or other foreign African countries since that would not solve the problem. The current Ghanaian government and the ones to come have to manage and eradicate this situation as armed robbery and vicious attacks are on the ascendancy and present the immediate need for flushing ruthless criminals out the society.
ALL HE WANTED TO DO WAS TO INVEST IN HIS MOTHERLAND GHANA AND CREATE JOB OPPORTUNITIES FOR HIS FELLOW GHANAIANS.
Tribute by Paapa Kweku
Sydney – Australia