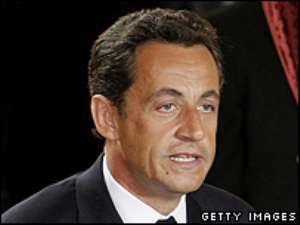 By Philippe Leymarie*
Philippe Leymarie (Le Monde diplomatique) -- France still has bases and troops in its former African colonies, but their departure or downscaling has now been planned, while the level of French economic aid to the continent is at an all-time low. Just what are Sarkozy's intentions towards the continent?
Jean-Marie Bockel was France's secretary for international development for just eight months, until he said he wanted to "sign the death certificate of Françafrique". (The term describes the secret private and public ties between most francophone African regimes and France during the Fifth Republic.) He lost his post just for using the term at a press event earlier this year. His tenure set a record for brevity, though the Socialist Jean-Pierre Cot was sacked in 1982 for having dared to tackle the ideology of third-worldism and dubious politico-business networks of francophone Africa.
The presidents of Gabon, Cameroon and the Congo (see "Copper colony in Congo"), riled by French public condemnation of their governance, and by lawsuits over their Parisian homes, persuaded their former colonial master to change his tune. Events enabled them to force Bockel's resignation: his comments came soon after the first demonstrations in Libreville (Gabon) against the expulsion of Gabonese citizens from France. There were others in N'Djamena (Chad) against French "child thieves" from the NGO Zoe's Ark; and in the Comoros islands, against "French Mayotte" for granting asylum to the deposed president of the island of Anjouan. In Djibouti, there were demonstrations against legal proceedings linking the president's entourage with the murder of a French magistrate, and in Abidjan (Ivory Coast) against Operation Unicorn, the French military force supporting the United Nations operation there. France's 40 or so African ambassadors to Paris all agreed in the autumn of 2007 on "France's seriously tarnished reputation in Africa" (1).
Regular promises notwithstanding, the level of French public development aid in Africa has hit a record low. China has overtaken France as sub-Saharan Africa's main resource. Areva, France's nuclear energy multinational, is criticised in Niger and the Central African Republic. The new French government's policy, embodied in a ministry of immigration and national identity created after Nicolas Sarkozy's victory in May 2007, draws constant censure.
In France, the many agreements signed with Libya in July 2007 are still being criticised, as is the French army's "non-participatory support" for the Chad regime, which had to fight off a rebel attack in the heart of N'Djamena in February. In May, French human rights activists were outraged when Sarkozy claimed to be moving on from "past misunderstandings" with Angola and hailed its "huge economic potential", on the doorstep of South Africa, "which accounts for 40% of Africa's GNP".
Sarkozy, hoping to live down a calamitous speech in Dakar (Senegal) in July 2007 (2), this February announced that all of France's military agreements in Africa would be renegotiated. The announcement was made in South Africa, never part of France's sphere of influence. The aim was to delete any provisions concerning internal security from France's agreements with eight francophone states (3). The president of the Ivory Coast, Laurent Gbagbo, thinks these defence agreements are long out of date and only apply when French interests are at stake; he says they are the basis of "relations built on hypocrisy". He notes that when he faced an attempted coup that he described as an "internal aggression" in 2002, the French military in his country refused to intervene (4).
Senegal's president, Abdoulaye Wade, has warned Paris of the "disastrous consequences" of a review of these agreements for countries which "without the dissuasive effect of the presence of French troops would soon slide into civil war" (5).
The French military presence in Africa will be reorganised and stripped down. Operation Unicorn, due to end once elections scheduled for November are held, will be wound up. The bases in N'Djamena and Bangui will be dismantled once those regimes are deemed stable. The base in Djibouti, whose 2,800 troops make it France's biggest overseas, is due to be scaled down in favour of the new base being set up in the Gulf in Abu Dhabi. In the long term, four forward bases would remain, in Dakar, Libreville, Djibouti and the island of Reunion, with a general at their head, working in close partnership with the African Union and regional organisations. They would be bases for regional military collaboration, training and equipping African peacekeeping battalions. The number of French troops deployed in sub-Saharan Africa (currently more than 9,000) would be halved. France also wants to give its African policy a European context. There is Operation Eufor in Chad and the Central African Republic, which will reach full operational capacity in July, with mostly French soldiers, and substantial Irish and Polish participation. The Reinforcement of African Peace-keeping Capacities (Recamp) programme, which is a French creation, would be transferred to European control. Should this happen, with a review of agreements and the reconversion (or adaptation of function) of bases, one of the foundations of French policy in Africa would gradually disappear.
In Sarkozy's first year as president, reconciliation with Rwanda has begun, thanks to the personal influence of his foreign secretary, Bernard Kouchner. Sarkozy is trying to prevent the Economic Partnership Agreements which the European Union has offered these African states from complicating relations with France's partners in Africa, the Caribbean and the Pacific (the ACP states) (6). The Guyanese MP Christiane Taubira has been asked to look after this issue. Sarkozy has also repeated his pledge to support the candidacy of a "great African country" to become a permanent member of the United Nations Security Council; but he has not yet said which this might be.
*Philippe Leymarie is a journalist at Radio France Internationale (RFI)
(1) Le Monde, Paris, 26 April 2008.
(2) See Anne-Cécile Robert, "Françafrique Sarkozy-style", Le Monde diplomatique, English edition, September 2007.
(3) Senegal, Ivory Coast, Gabon, Chad, the Central African Republic, Djibouti, Togo and the Comoros (as well as Libya in July 2007).
(4) Agence France Presse, 13 March 2008.
(5) Agence France Presse, 5 April 2008. The Senegalese president doesn't fear that such a review would jeopardise his own regime.
(6) See Ignacio Ramonet, "Africa says no - and means it", Le Monde diplomatique, English edition, January 2008.