August 20, 2008
|
Social News
Mr Emmanuel Bombande -'I Am For Peace'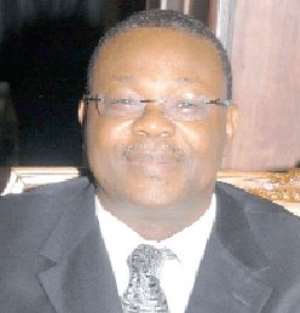 While growing up in Bawku, young Habuka saw a lot of the violence associated with conflicts. He was so shocked that he resolved to work for peace when he grew up.
Young Habuka's first encounter with violence was in February 1966, after the overthrow of President Nkrumah. Then a six-year-old boy in Primary One, all pupils in school uniform were sent to the Bawku football park, where the Bawku Post Office is sited.
" I remember the soldiers brought out all the pictures of Nkrumah from the various government offices, poured kerosene on them and set them ablaze. I still remember that image, the fire and the soldiers holding guns and forcing us to sing. As a child, I couldn't relate with it.
I became totally confused. After that incident, anytime I saw a soldier in uniform I got frightened," he recalled.
His second major experience was the 1981 Bawku conflict. Then a Sixth Form student, Young Habuka witnessed the shootings that went on when the conflict became worse. He told his mother at that time that he would work for peace.
And true to his word, Habuka, now Mr Emmanuel Bombande, has become a peace-builder. The Junior Graphic visited him at his office, the West Africa Network for Peace-building (WANEP), where he is the Executive Director, for him to share his childhood experiences with readers and to find out why he attached so much importance to peace on the continent.
And he said, "As a child, I saw people fighting and I used to have nightmares about the violence and that affected my studies, especially from Primary One to Three. The violence occupied my thoughts any time I wanted to study. As a result, learning became difficult for me".
Mr Bombande, who was born in Accra in 1960, was named Lamusa because he was a Thursday born but his grandmother changed his name to Habuka, which in the Bisa dialect means "where is he from?" because it took some time for his parents to have him.
As the first child, his parents wanted him to grow up in his own environment and, therefore, sent him to Bawku under the care of his grandmother when he was six to learn the culture of his people.
Just like any other boy growing up in the north, Young Habuka used to go to the farm to cultivate groundnut, maize and millet. His grandfather kept a white horse and so he took care of it everyday before he went to school.
Hunting was Young Habuka's hobby and so he used to go for long walks in the bush with his uncles during holidays. He loved the sight of the beautiful species of birds and got frightened when he saw snakes but he could not let his uncles see his fear because as a male child, he was expected to be brave.
"Oh yes," Mr Bombande said as he recalled an incident when riding his grandfather's horse years ago. He said he fell down, twisting his arm in the process. It was so painful that he started to cry. "My uncles, instead of comforting me, whipped me, with the explanation that a boy should not cry when he fell from a horse".
Emmanuel was added to Young Habuka's name after his baptism. He started school at the Bawku Daduri R/C Primary School and continued at the Daduri R/C Middle School, Bawku.
Young Emmanuel Habuka Bombande attended the Notre Dame Seminary Secondary School. It was while he was there that he adopted the prayer of St Francis of Assisi, "Make me an instrument of your peace," as part of his life.
It was also there that he saw how people could be divided by ethnicity and recalled how a cultural dancing competition, which encouraged all the different ethnic groups in the school to show off their culture sometimes turned into fights.
In secondary school Young Bombande was taught how to be responsible and lead a disciplined life. He was good in sports and eventually became the sports prefect.
Mr Bombande did his 'A' Levels at the Nandom Secondary School. In both Notre Dame and Nandom Secondary Schools, he was an active member and leader of the Young Christian Students (YCS) Movement. He later became the Pan-African Co-ordinator of that movement.
In 1984, Mr Bombande enrolled at the University of Science and Technology, now the Kwame Nkrumah University of Science and Technology, and studied Social Sciences.
He taught at Notre Dame, his alma mater during his National Service. While serving as the Pan African Co-ordinator of YCS in Nairobi, Kenya, he met academics and peace building practitioners and joined the Nairobi Peace Initiative.
This provided him the opportunity to pursue Peace studies in The Eastern Mennonite University in the United States, where he obtained a Master's degree in Conflict Transformation.
It was during his studies in the United States that together with a colleague and other practitioners, a research study was conducted leading to the establishment of WANEP in 1998.
He is married to Alice and they have three children.
Story by Augustina Tawiah