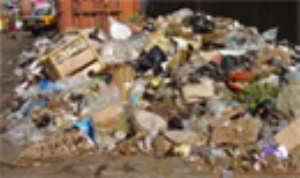 TO MANAGE the tons of waste products in the country especially in the capital city, a new recycling plant is to be set up on the Accra-Tema Motorway.
A Ghanaian company, Golden Falcons Limited and Dutch company Hoier Resources APS would be the operators and managers of the ultra modern plant that is worth millions of dollars.
By September, this year, the plant would start operation in earnest.
Among other forms of waste the company would recycle are papers, plastics and demolishing wastes.
This was disclosed in an interview with the Director of the Directorate of Sanitation at the Ministry of Local Government, Rural Development and Environment, Naa Demedeme, in his office.
Waste, he said, was an important resource that could bring much benefit to the nation and people if properly managed.
The biggest challenge currently was the lack of facilities to sort out and separate the various forms of waste produced by industries, households and small-scale companies.
Mr. Demedeme was particularly happy about the idea that the plant was going to put demolishing waste to use.
"There is demolishing waste all over; people tear down walls and buildings which we think are of no use, but that is money."
Demolishing waste can be used for road construction, land fills and many other things.
Waste recycling, among other things, contributes to the protection of the environment and the health of the people.
This innovation, he observed, would help stop and reverse the environmental damaging practice.
There are already a few recycling plants in Tema and Accra but they only reprocess plastic waste and that is why the new company is a welcome news for the Ministry of Local Government, Rural Development and Environment.
By Emelia Ennin Abbey