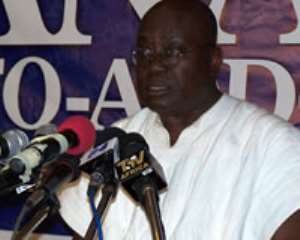 Nana Addo Dankwa Akufo-Addo, Presidential Candidate of the New Patriotic Party (NPP) on Thursday promised to ensure
that Ghanaian students get access to free education in public universities
by the end of his tenure as President if given the mandate.
He said the National Democratic Congress during its reign said it was impossible to give children free primary education but the NPP has been able
to do it and it was now the turn of Senior High Schools after which public University education would follow.
Nana Akufo-Addo said these on the second day of his campaign tour of
some constituencies in the Upper West Region to introduce himself to the
people.
The tour took him to Wechiau and Dorimon in the Wa West Constituency,
Issa in the Nadowli East Constituency, Nadowli and Kaleo in the Nadowli West Constituency and he also addressed a rally at Wa organized by the Wa Central Constituency of the party.
Outlining his vision for Northern Ghana, Nana Akufo-Addo said he would establish a Northern Development Authority, which would coordinate all development initiatives in the North, including the Northern Development Fund that would be increased to one billion US dollars.
The three Northern Regions had the potential to produce food to feed the nation and export some to other West African countries through a large network of irrigation facilities and a system where rain water could be preserved for agricultural activities, he said.
"I will do all these for the people of the North. I am determined to stand out as one who transformed development in the North to catch up with the South.
"Everybody will eventually see that things have changed for the better of the three regions by the end of my term."
He spoke against politics of "divide and rule", saying it was not good for the country and the NPP would never engage in it.
Nana Akufo-Addo who has been attracting massive crowds never associated with the party in the region said with the wave of support the party would reclaim its heritage there.
He is being accompanied by Mr. Yaw Osafo Maafo, Mr. Alan Kyeremanten, Jake Obetsebi Lamptey all former Cabinet Minister who contested the NPP Presidential primaries last year.
Advertisement
Others in the entourage were; Alhaji Abubakari Sidique Boniface, Minister of Water Resources, Works and Housing; Hajia Alima Mahama, Minister of Women and Children's Affairs; Mr Ambrose Dery, Minister of State, Attorney-General and Justice Ministry; Mr Godfred Tangu, Minister of State for Transportation and Miss Gloria Akufo, Ambassador designate to the Republic of Ireland.
They were later joined at Nadowli by Alhaji Rashid Bawa, Ghana's Ambassador to Saudi Arabia.
Nana Akufo-Addo who received a rousing welcome at Wa had earlier paid courtesy calls on Alhaji Yakubu Issahaku, Chief Imam of Wa, Alhaji Mogtari Mustapha, Chief Muslims (Yeri Naa), the Tendamba (Custodians of Wa lands), Zongo Chiefs and Nana Kwame Serbeh, Chief of the Akan Community in Wa.
They all prayed for him to achieve his ambition but reminded him and his followers to avoid insults and personal attacks during their campaigns.
Most Reverend Paul Bemile, Catholic Bishop of Wa prayed for the NPP leader and presented a Holy Bible and Rosary to him when he called on him at his residence.
Bishop Bemile urged the youth of political parties not to do anything that would create violence during the coming elections.