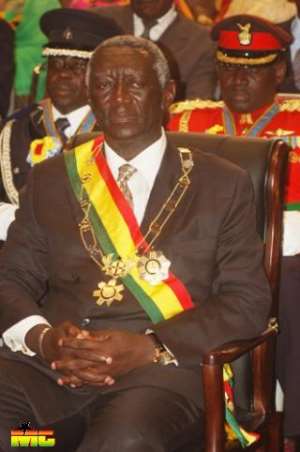 While the controversy surrounding this year's presidential awards appears to be receding, much more has come up and that is the cost of the medals.
According to Joy News reports, the medals which were pinned to busts and hung around the necks of more than 200 award winners at the ceremony cost the country GH¢ 1.4 million (14bn. old cedis).

The figure was discovered from documents stumbled upon by Joy FM.
An official invoice from the manufacturers of the medal, UK-based Clear and Company International holds the revealing figures.
The invoice indicates that in total, more than 717,000 pounds was spent on the medals.

At the current exchange rate that comes to about 1.4 million Ghana cedis.
Even more revealing was the medal which was used to decorate President Kufuor, the most expensive of the lot.
Set in 18-carat gold, the presidential medal of the Grand Order of the Star and Eagles of Ghana cost 33,000 pounds and five of them were made at a total cost of 165,000 pounds or 313,000 Ghana Cedis.
The order of the star of Ghana, won by the likes of NPP flag-bearer, Nana Akufo-Addo also cost 10,000 pounds each.

The grand medal, won by honorees like comedian Agya Koo was the cheapest, costing just about 95 pounds each.
Information available to Joy FM also indicates that more than 22,000 pounds or 43,500 Ghana cedis (¢435m) was used to ship the medals from Britain to Accra.
When asked about the invoice, Presidential Press Secretary Andrew Awuni who returned last night with the President from the G8 summit in Japan, said he had not sighted the document.

He however said government would respond accordingly to the matter in due time.