Nana-Addo promises to bridge North/South gap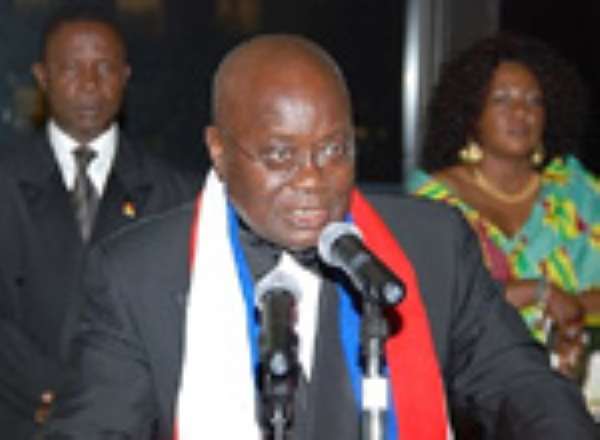 Nana Addo Dankwa Akufo Addo, flagbearer
of the NPP has promised the country good governance that would bridge the widening gap between the North and the South to foster true national unity.
He said; "I am always saddened when comparisons are made to relegate
the north to the background when in actual fact we are all Ghanaians and my government when given the mandate, will ensure that the north and south
would enjoy equal opportunities".
Nana Akufo–Addo made the pledge when he made whistle stops at Bamboi, Mandari, Bole, Sawla, Tuna and Kalba communities on his way to the Upper
West Region.
The flagbearer, who was given a rousing welcome at Bamboi by the party faithful is on a 22-day tour to the three Northern regions to officially introduce himself to the people and to solicit for votes in the December polls.
Nana Akufo-Addo said the NPP, by nature was development oriented and asked Ghanaians to return the party to power to continue with its good development agenda, which would make Ghana a haven of peace, tourism, business and investment destination.
He said the NPP was working hard to leave a legacy for generations to appreciate and he would not disappoint any Ghanaian when given the mandate to rule the country.
Nana Akufo-Addo mentioned improvement in the road network, introduction of the National Health Insurance Scheme (NHIS), School Feeding programme, feeding and capitation grants, the prevailing peace and a stable economy as ample testimonies that would inform Ghanaians to make good decisions to vote and retain the NPP in power.
He said the NPP had a good agriculture plan to transform the Northern sector to integrate it with the rest of the country.
He promised to carry out a clean campaign devoid of insults and asked opponents to do the same to ensure that the December general elections were peaceful.
Among those accompanying the Flag bearer were; Alhaji Abubakar Boniface, Minister of Water Resources Works and Housing, Mr. Alan Kyeremanten, member of the campaign team, Alhaji Mustapha Ali Idris, Northern Regional Minister, Mr. Osafo Marfo, Mr. Jake Obetsebi Lamptey, Ms. Gloria Akuffo and Alhaji Moctar Bamba all leading members of the party.