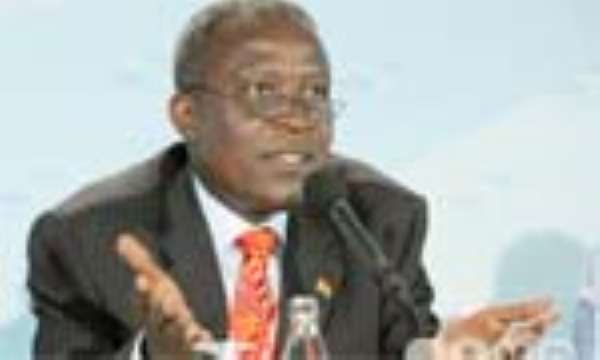 Kwadwo Baah Wiredu, Minister of Finance and Economic Planning has urged Germany to support Ghana to assemble German vehicles in the country.
Germany is noted for producing first-class vehicles such as Volkswagen or VW, Mercedes Benz, BMW and Opel and Mr. Baah Wiredu appealed to Germany to convince these automobile firms to set up subsidiaries in Ghana.
The Finance Minister said this at the signing ceremony of the Ghana-Germany Financial Cooperation Agreement last Friday.
Mr. Baah Wiredu initialed for Ghana while Dr. Marius Haas, German Ambassador to Ghana initialed for his country.
By this agreement, the government of the Federal Republic of Germany would make available to the government of Ghana a total sum of 38 million euros to support the Multi-Donor Budget Support which gets 19 million euros; the District Development Fund, 13 million and Outgrowers and Value Chain Fund, 6 million euros.
Currently, the bilateral development cooperation between Ghana and Germany are concentrated on decentralization, agriculture and sustainable economic development.
But Mr. Baah Wiredu wants it to be extended to cover the assembling of vehicles in the country which will not only boost the automobile industry but also create additional jobs.
Outside the focal areas of Ghana-German development cooperation, Germany is also supporting the Legal Sector Support Programme, and the road sector, thus the rehabilitation of Tema-Sogakope-Akatsi road, he added.
For his part, Dr. Haas said Germany is committed to supporting Ghana's attainment of middle-income status and the Millennium Development Goals (MDGs).
"We therefore consider ourselves as one of Ghana's important development partners, building on a long tradition of friendly and trustful relations".
Dr. Haas added that Germany will also show commitment to further supporting Ghana's development agenda and therefore it is looking forward to contributing to the discussions on the long term national development plan as well as the Ghana Aid Policy.
Since 1957, Germany has contributed about 1 billion euros to support Ghana's development.
By Charles Nixon Yeboah