GUPS Calls For Female Veep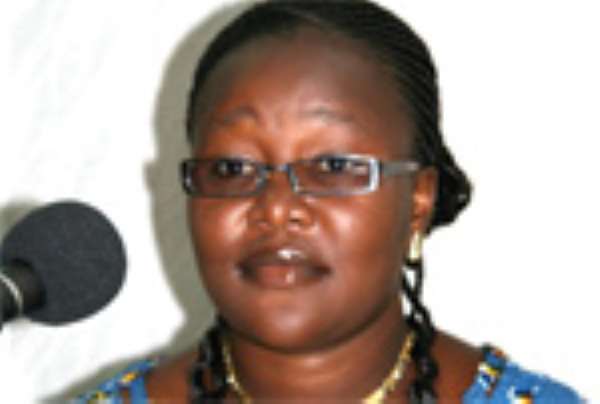 MISS MARY Eyi Dzakpasu, Women's Commissioner of the Ghana Union of Professional Students (GUPS) has called on flag-bearers of the various political parties who are yet to choose running mates, including the NPP and the CPP, to contemplate appointing a female running mate.
The statement, made at a press conference on Monday in Accra and also on behalf of the National Union of Ghana Students (NUGS), the Ghana National Union of Polytechnic Students (GNUPS) and GUPS, was part of a larger appeal for the empowerment of women, particularly in roles of leadership.
Affirming the acceptance of women in leading political roles, both in Ghana and around the world, the GUPS Women's Commissioner stated the need for a competent female running mate, who would leave an impact and thus encourage women to follow in her footsteps.
She called for a woman who was affable, gender-sensitive, duty-conscious and who could perform when the President was not available.
Miss Dzakpasu expressed belief that choosing a female running mate would go a long way towards harnessing efforts for the country's development.
Given that women constitute 53 percent of Ghana's total population, Miss Dzakpasu stressed that "it is only fair that they are given a fair representation in the political landscape."
"Women haven't been given the necessary opportunity to display their talent," she contended, adding "We want to be equal, to stand shoulder to shoulder with male colleagues. We don't want to rally behind them."
Miss Dzakpasu stressed that the press conference was intended to motivate political and non-political leaders to accede their call for the participation of women in various sectors of the development of a nation.
The press conference came on the heels of a seminar held at the British Council on June 14 by GNUPS, GUPS and NUGS, on theme "Women Empowerment: The Role of the Ghanaian Woman in Leadership".
While the meeting emphasized the invaluable contribution women of this country were making to the development of the nation, Miss Dzakpasu emphasized that "it also became eminently clear that women are making a persistent and well deserving call for fuller participation in their fields of endeavour."
GUPS, GNUPS and NUGS see no end for the possibilities of female leadership in the country.
"We hope against hope that sooner rather than later a woman will ascend the position of the number one person in our country," Miss Dzakpasu indicated.
"Its our collective will that the days of playing surrogate roles are over and indeed this is the moment and it is 'our time' for the women of this country," the GUPS Womens' Commissioner stated emphatically.
By Alesha Porisky