Subsidized Fertilizer To Farmers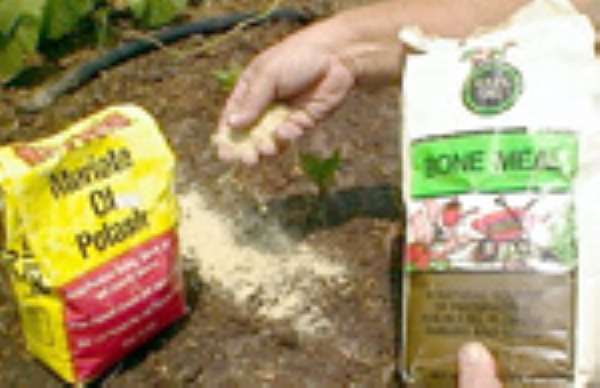 Farmers throughout the country would from today buy fertilizer at subsidized prices.
The intervention, which was announced by President John Agyekum Kufuor, is to mitigate the effects of the rising global food prices on Ghanaians.
Four different types of fertilizers would be affected.
A statement signed by Ernest Akobour Debrah, Minister of Food and Agriculture indicated that with effect from Friday, July 4, 2008, Urea would sell for GH¢26.00 while Sulphate of Ammonia would be GH¢18.00.
Others such as NPK 15-15-15 and NPK 23-10-05 would be sold at GH¢26.00 and GH¢24.00 respectively.
The subsidized prices will be the same in all district capitals in Ghana.
The statement noted that to make accounting procedures easier, subsidy coupons had been introduced, and that farmers could access the fertilizer coupons from their respective Agricultural Extension Agents at no cost.
To purchase fertilizer, a farmer pays the stated cash value of the fertilizer and adds the coupon.
It however called on farmers to contact the nearest MOFA office for further information.
According to the International Monetary Fund, over the past 12 months, global food prices have increased on average by more than 40 percent.
Most experts believe that there is no single driver behind this unprecedented rise in the cost of foodstuffs, but rather numerous factors which threaten food security and wellbeing of millions of people, particularly the poorest of the poor in the developing world.
Experts have blamed the crisis on the increased demand for food commodities by developing countries due to population increases and increased consumption; the production of crops for bio-fuels; increased costs of transportation, fuel and fertilizer due to the increasing cost of oil; a weakening U.S. currency which increases the effective cost of commodities purchased with dollars; and recurring natural disasters such as drought and flooding.
By Emelia Ennin