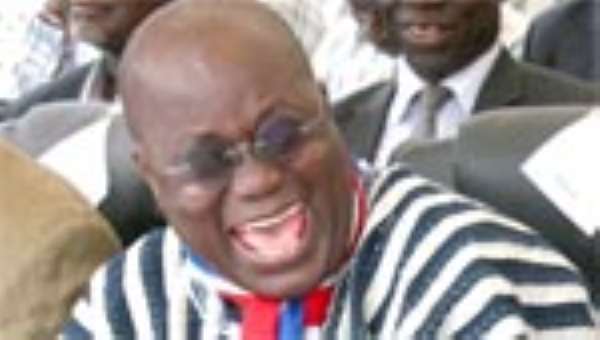 NANA ADDO Dankwa Akufo-Addo, flagbearer of the New Patriotic Party (NPP), surprised many on Monday evening when he jumped onto one of the commercial mini-buses popularly known as 'trotro' plying the Kaneshie-Circle route in Accra.
Nana Addo joined the trotro from Kaneshie First Light to the Kwame Nkrumah Circle, all in Accra, and then continued to the Police Headquarters area as he engaged his colleague passengers in a chit-chat to have first-hand information on the concerns of the ordinary Ghanaian.
Also on board were Dr. Kofi Konadu Apraku and other members of his campaign team.
Many passengers who were on board before Nana Addo entered the vehicle refused to alight when they got to their destinations as they felt happy sitting in the same 'trotro' with a potential president.
Other passengers who joined the vehicle could simply not believe that they were in the same trotro with Nana Akufo-Addo.
Almost every passenger volunteered to pay the trotro fare for Nana Addo while the driver said he would not accept any money for the ride.
The flagbearer and his colleague passengers held general discussions on various political and social issues as he took the opportunity to explain how he intends to address the country's challenges with a sense of urgency when he succeeds President J. A. Kufuor.
Earlier in the afternoon that day, Nana Addo and his team were overwhelmed by the zeal with which people rushed to meet them when they paid an unannounced visit to vehicle spare-parts dealers at the Abossey Okai market in Accra.
When news went round that the NPP flagbearer had entered the market and was in a meeting with the leadership of the Spare Parts Dealers Association, several hundreds of shop owners closed their shops and trooped to the venue of the meeting in a carnival style.
For close to 30 minutes the crowd remained outside the meeting grounds chanting "Nana ooo Nana", "Naa Nana; naa shuo" among other NPP slogans and appellations of the flagbearer.
When Nana Addo and his team came out of the meeting, they were greeted with deafening cheers and applause from the mammoth crowd that was waiting.
Vehicular movement in and around the market came to a halt while the crowd kept increasing in size.
Though Nana Addo was addressing his impromptu audience via a mega-phone, his voice was swallowed by the bustling and cheers of the large crowd.
Prior to the Abossey Okai visit, Nana Addo had visited various wards at the Korle-Bu Teaching Hospital to learn more about the challenges in the health sector.
By Halifax Ansah-Addo