Ellembele District Feeder Road Engineer visits flood area at Essiama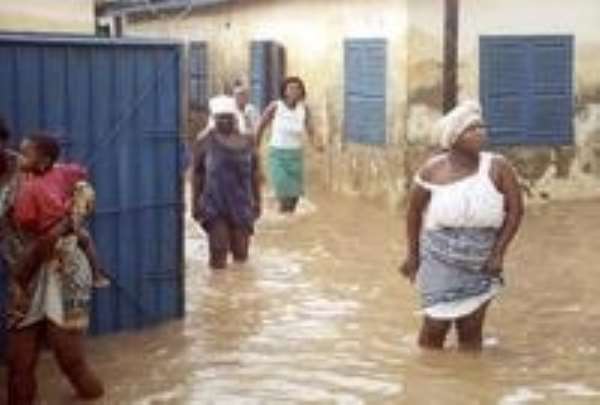 The Ellembele District Engineer of the Department of Feeder Roads, Mr Bio Meikono has advised residents in the area to desist from putting up structures on waterways to prevent floods during rain.
He also called on the Town and Country Planning Department in the district to ensure that people did not build at unauthorized places.
Mr Meikono gave the advice in an interview with the Ghana News Agency after inspecting some buildings, which were partially submerged by rains last Sunday, June 29, 2008 at Essiama.
He observed that some buildings were affected by the flood at Ahunle, a suburb of the town due to the narrow nature of a bridge there that made it impossible for the water to move fast through it.
Mr Meikono said the bridge would have to be expanded to ensure that rainwater flowed smoothly and speedily through it into the sea to avoid flooding.
He later inspected the Aiyinase-Akoto and Edguakpole-Awiaso feeder roads, which he said are in bad condition, adding that plans were far advanced to rehabilitate them.
Mr Francis Etsua, Nzema East Municipal Co-ordinator of the National Disaster Management Organisation (NADMO), urged contractors not to do shoddy work since it could lead to disaster.
He expressed his sympathy with the flood victims and urged the contractor who constructed the narrow bridge to rectify it.