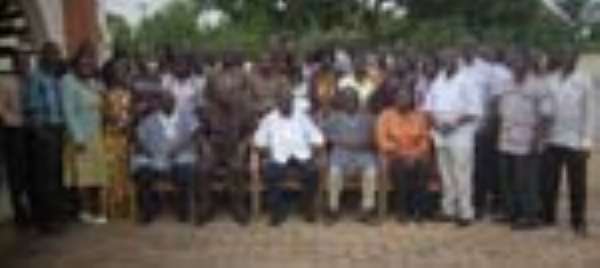 Despite their friendship with the Parliamentary press corps, members of the Minority National Democratic Congress (NDC) in Parliament, most often, disappoint the corps when invited by the journalists.
At a workshop held at Koforidua in the Eastern Region on the disbursement of the District Assemblies' Common Fund in April, last year, the minority failed to attend even though the press corps invited them.
Last Sunday was another classic example of the NDC's failure to honour an invitation by the Parliamentary press corps, which wanted both the majority and the minority sides in the House to teach them the various procedures in Parliament to hone their reporting skills.
That was at a two-day workshop organised by the Office of Parliament at Sogakope in the South Tongu district of the Volta Region.
Though the Minority failed to turn up, the workshop was successful as all the other resource persons, including the majority Chief Whip, Kwabena Okyerchire Adusa, were around to take the media personnel through the various parliamentary procedures, especially the processes bills, resolutions and motions passed through.
The first deputy speaker of Parliament, Freddie Blay, who was the guest of honour, encouraged the journalists to take advantage of their presence in the House to learn a lot about parliamentary practice. "In journalism, you have to muster several things at the same time."
Mr. Blay, who likened the relationship between journalists and politicians to that of Siamese twins, called on the media to do their best to uphold the nation's democratic culture as their contribution to it was invaluable.
"If democracy is sacrificed, it is not only Parliament that suffers. Of course, they will come for me at dawn and they will come for you in the afternoon," he said.
He appealed to the management of media organisations to refrain from changing and transferring their correspondents in Parliament so frequently as that practice retarded their progress, because it did not encourage specialisation.
He proposed an endowment fund to support journalists who had been reporting from Parliament for two or more years to attain more academic laurels. The fund, he suggested, should be the contribution of civil society, government, parliamentarians and businesses.
Mr. Yaw Boadu-Ayeboafoh of the Graphic Communications Group, entreated journalists not to pander to the interests of any politician as journalism is based on reporting what is in the public interest. "No matter how close you are to an MP must not form the basis of your story."
For him, the media should do their best to protect the legislature as it is usually one of the casualties of dictatorships.
"We need to understand that Parliament is more important than the executive arm of government because it is only at the legislature that our voices are heard."
The Director of Public Affairs of Parliament, Jones Kugblenu, his deputy, Kate Addo and Hon. Adusa, took turns to share some thoughts with the journalists.
From Sylvanus Nana Kumi, Sogakope