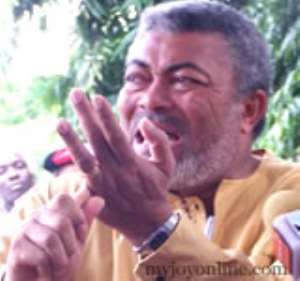 After a long silence, former President Rawlings has for the first time this year given expression to his views about issues in the country amid a mix of phone beeps, siren sounds and a lot of "full-size" words.
The Republic Day "summit" with the press at his Ridge residence got off to an interesting start when few seconds after launching into his usual "ladies and gentlemen" speech jingle, his phone rang.
The beep which sounded like a lullaby necessitated a quick pause, and proceedings continued.
Mr Rawlings spoke demanding that the handful of party functionaries and sympathisers, at least, listened with their ears cocked.
"Ladies and gentlemen, do me a favour, I want you to be as quiet and attentive as possible to listen to what I'm going to say," commenced the discussion of matters on the agenda.
Then came the announcement of his hidden talent, "able to see things you cannot see."
At least, as he stated, "I've known these people for far too long,"- here referring to the ruling government. It would therefore not be an understatement, or say, an over-statement for President Kufuor to confer on him the honour of the Star of the Eagle and the Foresight.
Mr Rawlings sounded very articulate and "English." He used many words both big and small borrowed from many fields of academia. The listener could easily find a lot of words to revamp his or her vocabulary archive.
A medical term like anesthetize was a major itinerary in the 80 minutes delivery. This was to mean the ruling government has written a history of taking advantage of what he described as "pockets of conflicts" to silence an otherwise outspoken citizenry.
Again this also meant "the government has devised a way to get the citizenry cowed without making international headlines."
Mr Rawlings' address did not spare the expression emasculatemeaning to castrate, to deprive of strength and vigour.
Then came the siren factor. As if calculated, a moving ambulance wheeled past the venue for the conference with a loud siren sound only to push up "beautiful wishes" from Mr Rawlings' all for Mr Kufuor.
In a swift reaction to the interruption Mr Rawlings uttered: "I wish when he goes out of politics he would have the luxury of riding in one of these."
It is now a luxury to drive or be driven in a hearse, thanks to a Republic Day "boom." But one cannot be sure if Mr Kufuor is ready for this luxurious ride after moving out of office in December.
In all the holiday address was not only full of serious issues but a least enough to cool off with.