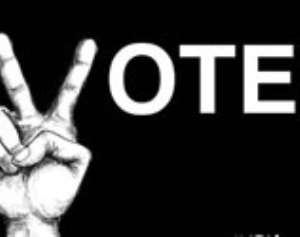 The Students Representative Council (SRC) of the Ghana School of Law on Monday urged Ghanaians to take advantage of the impending re-opening of the voter registration exercise to register to enable them to exercise their franchise in the upcoming general elections.
It said that was the only way they could, as a people, be assertive of their civil right to vote.
This is contained in a statement signed by Ms. Vida Agyekum, SRC President, to mark Ghana's Republic Day celebration.
The SRC urged political stakeholders to run their campaigns with the utmost decorum so that they did not deprive Ghanaians their right to participate in the way they are governed, which was the bottom line of a Republic.
It added that this right was also guaranteed by the Constitution and all must endeavour to respect it.
The statement said it was important for Ghanaians to remind themselves that Ghana's Republic marked the birth of the first constitution hence the beginning of true democracy, constitutionalism and the rule of law.
It said the Republic also stood for a moment of zeal and determination when the people of the country took their destiny into their own hands demonstrating the spirit that the Ghanaian "is capable of managing his own affairs".
"Forty-eight years down the line, we as a people should pause for reflection and assess our performance over the years to take stock of our successes and difficulties. We should also take time to plan ahead so that the steps we take do not contradict the vision we shared 48 year ago."