Bawku Swallows Police force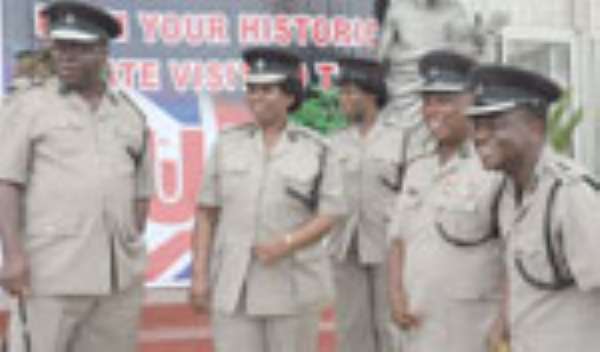 Twenty new patrol vehicles have been earmarked for use in peace keeping and law enforcement in the Bawku Municipality.
These vehicles will add up to the existing number of patrol vehicles in the troubled area, to ensure effective patrol of the area especially as the trouble keep recurring despite security presence.
Raincoats numbering 250 have also been procured for distribution to security personnel to keep them on guard even on rainy days, as some of the gunshots recorded in the area were fired at the time the area was being "washed" by rain.
These interventions came about following President John Agyekum Kufuor's directive to the Police authority to ensure that all logistics needed by the security personnel on operation at Bawku were provided to motivate them to handle the situation effectively.
The Inspector General of Police (IGP), Patrick Kwarteng Acheampong, disclosed this to the media in Bawku, after he and the Chief of Army Staff, Major General Samuel Odotei, had been briefed behind closed doors on the situation in Bawku and some difficulties confronting security personnel in the area.
The IGP further disclosed that the President had personally made moves together with top security officials to restore peace in Bawku, but added that the people of the area would have to resolve not to use violence in settling their differences.
The situation on the ground, despite the curfew imposed on the area, demands the deployment of more security personnel, but it was not disclosed to the media when this would be done. Taking his turn to address the media, Major General Odotei, described the recurrence of violence in the area as unfortunate, especially after so much attention and resources had been spent towards restoring calm and peace in the Bawku Municipality.
He as well cautioned the media against publishing unsubstantiated information about the Bawku crisis, adding that reports by the media could help the peace process or derail it.
"The innocent people of this area, especially children deserve to live in a peaceful atmosphere to enhance their development. For this reason, I call for local peace initiatives to practically involve residents from all sides in efforts at restoring normalcy in this area."
The official death toll in the recent crisis stood at 13 at the time of briefing the media on Wednesday June 26. Large numbers of people, especially women and non-natives, are fleeing the area for safety.
Meanwhile, business activities in the area had not been encouraging, and hunger among children especially is bound to increase if the curfew hours are not relaxed.
The Bawku Presbyterian Hospital, though working with a skeletal staff, is virtually empty and quite.
From Ebo Bruce-Quansah, Bawku