Will Mills also reject award?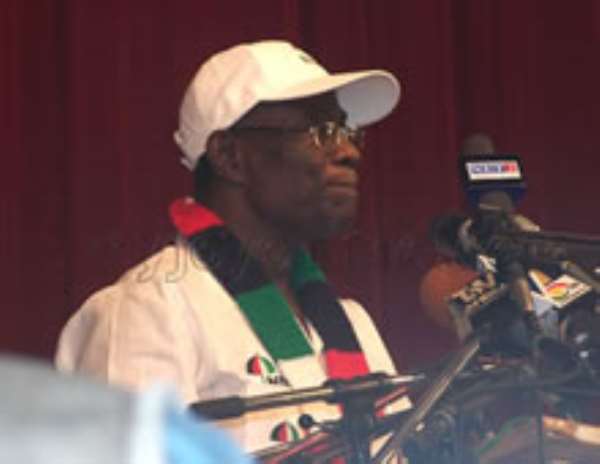 The controversy surrounding the recent National Awards continuous unabated, with fears of Prof. Atta Mills Flag Bearer of the National Democratic Congress joining the list of party gurus to boycott the award ceremony.
This followed an official statement issued on Thursday by Asiedu Nketia General Secretary of the NDC, asking all members of the party to decline receiving the awards.
According to Hon. Mahama Ayariga the spokes person of Atta Mills campaign team, the Prof had just returned from the Western Region and was yet to meet the party leadership to discuss the statement issued and was unable to confirm whether or not the good Prof would accept or reject his award.

On whether or not the party's decision was binding on Prof. Mills, Mahama Ayariga said "Prof Atta Mills was not just a member of the party, but the leader of the party, and so when the party issues a statement directing all other people to conduct themselves in a certain way, as a leader he has to meet with them, discuss it, before coming out with his own position as flag bearer".
He added that Prof Atta Mills is least concerned with the reception or otherwise of ceremonial awards, and that the issues of high food and petroleum prices, justice delivery, crime and poor health care delivery in the country were of paramount importance.
Meanwhile, Mr. K.B. Asante a retired diplomat has expressed his disappointments over the intention of the NDC to boycott the award ceremony en bloc.
He said even though some of the concerns raised by the NDC were legitimate it was not in the interest of the nation for a mass boycott by the NDC.
He said, "I do appreciate that that there were some problems in connection with the awards. The highest award was changed, a new award was introduced, it appears without a national consensus, especially consultations with other parties and this I believe the NDC feel strongly about".
He however called on the NDC to show accommodation and maintain the unity of the country by giving credence to the awards.
Author: Nathan Gadugah