President Meets Kusasi Delegation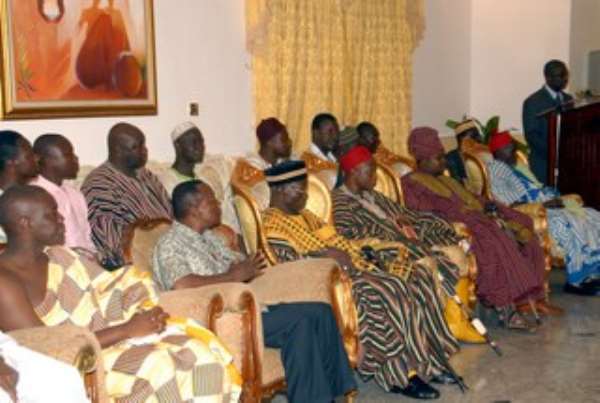 President J.A. Kufuor last night held a marathon meeting with the Bawku Naba, Asigri Abugrago Azoka, his elders and other opinion leaders in the Bawku traditional area at the Castle in an effort to find a lasting solution to the protracted conflict that has claimed many lives.
Also at the meeting were some ministers of state, parliamentarians and representatives of the National Peace Council.
The meeting was held behind closed doors but President Kufuor in his initial remarks expressed grave concern about the continued escalation of the conflict and said 'the whole nation is disturbed by the inhuman acts happening everyday in the Bawku area'. He recalled the separate meetings he held with the factions and said given the level of leadership he dealt with and the assurances given, he thought the situation would be reversed to normalcy.
An obviously disturbed President Kufuor said leadership should not allow things to get out of hand in order to hold the nation to ransom.
'History and tradition should not hold us back. We cannot allow this in today's Ghana,' he said.
The President said leadership should not allow a situation where citizens were being hacked savagely, and added that 'if we are part of leadership, we should be ashamed'.
President Kufuor said the meeting should be a watershed point that should see the 'serious and committed turn around'.
He said participants of the meeting should approach issues with open hearts to help solve the problem.