NPP Flag bearer spelt out vision for nation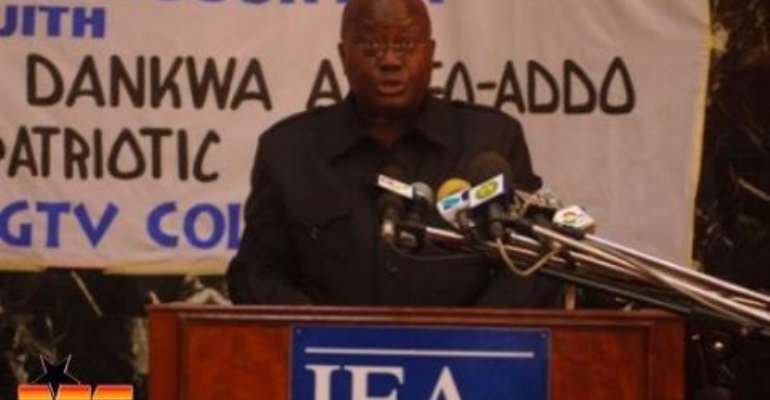 Accra, June 26, GNA – The Flag bearer of the ruling New Patriotic Party (NPP) Nana Addo Dankwa Akufo-Addo, on Thursday outlined a pro-active governance blue print for accelerated national development and asked Ghanaians to vote for him base on the benchmarks to implement it.
The Nana Akufo-Addo Governance Blue print focus on development of human resources, creation of jobs, building affordable housing units, holistic educational improvement system, and enhance health care.
Other areas include instituting vigorous campaign against corruption, intensify the fight against the drug menace that has engulfed the nation, adhere to law and order, recognition for traditional authority, improve public sector and prudent economic management.
Nana Akufo-Addo made the presentation at interactive platform dubbed; "An Evening Encounter With A Presidential Candidate," a live political platform on Ghana Television and other media networks organised by the Institute of Economic Affairs (IEA) in collaboration with Ghana Broadcasting Corporation and Joy FM.
The platform under the auspices of the Ghana Political Parties Programme enables the various presidential aspirants with representation in Parliament to educate the electorate on their visions, plans and how they intend to govern the country, should they be elected as President of Ghana.
Nana Akufo-Addo was the third Flag bearer to appear after Dr Paa Kwesi Nduom of the Convention Peoples Party and Professor Evans Atta Mills, of the National Democratic Congress. Dr Edward Mahama of the Peoples National Convention would appear on July 3.
He said: "I come from a background where public service is considered a duty, and where privilege and good fortune demand even greater commitment to the common good.
"I am fully aware of the responsibility the job of leader brings as I am fortunate enough to carry a sense of the history and struggles that made that job possible as well as apprised of the challenges and opportunities of the future. Crucial to this future, is how to unleash energies to broaden the horizon and to realise the hopes of every man, woman and child in Ghana".



Nana Akufo-Addo said there are no short-cuts for Ghana. Only hard work, creativity and a sense of enterprise can produce the accelerated economic development that will bring to all Ghanaians the basic deliverables they so richly deserve from their Government, namely, the very best of public services, including an effective, humane healthcare system, access to a secure and reliable justice system and access to a quality education in Ghana that rivals any in the world.
"But we cannot get anywhere without sufficient financial resources. And to grow these financial resources, we need to look more and more to ourselves within Ghana and among Ghanaians in the Diaspora than we have in the past. We need to develop and pursue a clear policy of Ghanaian Economic Empowerment.
"To do so we should not be shy of introducing policies that look, first and foremost, after our own people at every level of our economy. We must pursue a proactive but pragmatic agenda by picking, stimulating and increasing the number of Ghanaian winners in all sectors and build champions of industry who can compete anywhere in the world," he said.
Nana Akufo-Addo said under his Presidency the nation would make use of globalisation in such a way as to enhance the nation's capability and capacity. We should be bold and devise and push an agenda that gets people out of the cycle of subsistence wages and informal, ad hoc economic activities, into the formal sector.
"I believe in leading by example. I believe in the cohesive richness and the manifest destiny of this great nation's diversity. I believe in the can-do spirit of our people. I believe in Ghana," he said.
Mrs. Jean Mensa, IEA Administrator questioned present and past government why the farmers continue to use cutlass and hoe for farming, dependence on rain feed agriculture, poor infrastructural development, and vulnerability of the economy 50 years after independence.
She said the nation now looks forward for leaders who can take bold initiatives to alleviate the suffering of the masses across the nation.