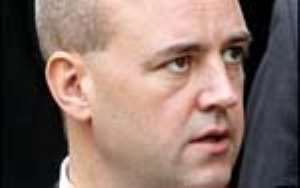 The government of Sweden has pledged its unwavering support for developmental initiatives being undertaken to extend telecommunications and ICT connectivity to rural communities in sub-Saharan Africa.
The announcement was made when a delegation of African ICT ministers, regulators and other government officials paid a courtesy visit to the Swedish seat of government in Stockholm as part of a week-long European-African roundtable aimed at fostering interactions between key decision makers in the ICT sector in Africa and private sector organizations in Europe.
Welcoming the delegation, Gunnar Wieslander, State Secretary to the Minister of Trade at the Swedish Ministry of Foreign Affairs, said private sector companies are leading the world in sectors that are of great importance for developing countries to move forward.

Mr. Wieslander emphasised that Sweden has a number of government-supported financial institutions that can contribute to the financing of telecommunications and ICT infrastructural projects within Africa, saying that Sweden is well prepared to provide financial solutions.
He mentioned Swedfund, Sweden's Export Credits Guarantee Board (EKN) and Swedish Export Credit Corporation (SEK), among others as some of the supports available.
The CTO's Director of Programmes, Bashir Patel observed that bringing ICTs to rural Africa is a challenge and a task that requires strong partnerships between the public and private sectors, as well as donor agencies working side-by-side to create successful programmes and projects aimed at utilising ICTs to develop human resources.
He acknowledged the fact that Sweden has long been involved in the deployment of technologies to help African governments connect rural communities.
Mr. Patel stated that the CTO as an intergovernmental telecommunications and ICT organisation is open to collaborative work with Swedish development agencies and private organisations on a number of fronts including research, consultancy and capacity development and training programmes.