Unique Trust to list 90m shares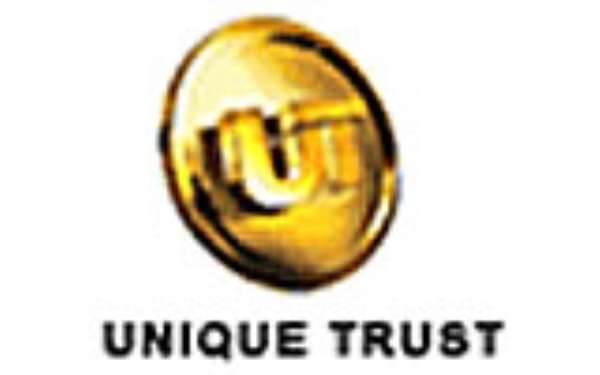 The Business & Financial Times quotes sources at the Securities and Exchange Commission (SEC) of confirming a prospectus of Unique Trust Financial Services Ltd. (UT) will be ready in three weeks to pave the way for the company to list 90,293,000shares on the Ghana Stock Exchange.
The Business and Financial Times says it learnt that the company hopes to raise GHc23 million through the public floatation.
When contacted, the Director of Finance and Administration of UT, Mrs. Pearl Esua-Mensah, refused to jump the gun on the SEC but disclosed that the number of shares represent 40 percent of existing shares (80,293,000 shares) that shareholders want to trade on the bourse and 10,000,000 new additional shares representing five percent of existing shares that the company wants to raise.
"Primarily, our intention of going to the market is not to raise additional capital but a decision of the present shareholders who want to sell part of their holdings to raise cash for other personal interests," she said.
"The 10,000,000 additional shares valued at GHc3 million is a bid to strengthen our balance sheet," she added.
The lead transaction manager is Databank Group. The legal advisors are Bentsi-Enchill Letsa and Ankoma, while NTHC is playing the role of registrar.
Market watchers expect UT shares to be oversubscribed in view of the performance of the company.
UT, a company engaged primarily in on-lending funds to operators in the informal sector of the economy, disbursed a total of GHc100 million in loans last year.
It also posted a profit after tax of GHc4.47 million, a 73 percent increase over the 2006 figure. Total operating income went up by 28 percent to GHc22.68 million, while net operating income went up by 40 percent to GHc13.58 million.
UT's returns on average investment have increased consistently over the years. From 66 percent in 2003, it reached 218 percent in 2006 and further to 247 percent last year.
Total shareholders' funds of the company stood at GHc7.9 million, from the level of GHc5.5 million in 2006.
UT is ranked number two on the Ghana Investment Promotion Centre's Ghana Club 100, behind the telecom giant, MTN. This makes UT the number-one indigenous company in the country - in just a decade of its operations.
The CEO of UT, Captain (retd) Prince Kofi Amoabeng , was recently adjudged the Most Respected CEO in the country by a reputable survey conducted by the PricewaterhouseCoopers and B&FT.
Credit: B&FT