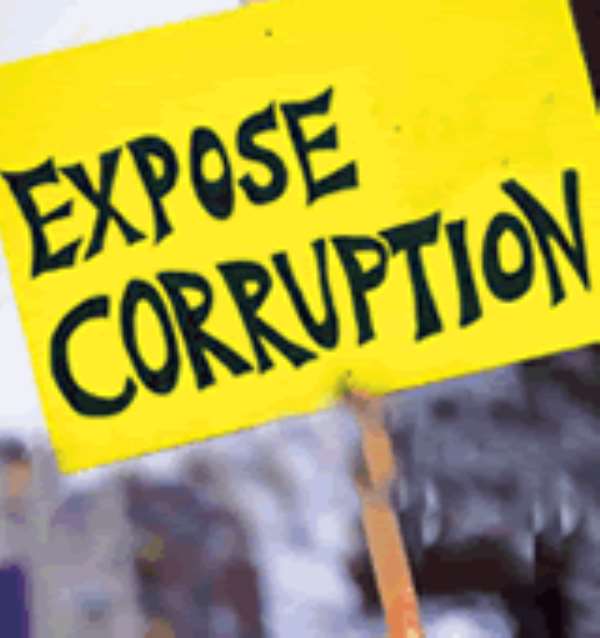 The Ghana Centre for Democratic Development (CDD-Ghana) on Monday said most Ghanaians continue to hold the conviction that government officials are corrupt.
Presenting the 2008 Afrobarometer report, Professor Emmanuel Gyimah Boadi, Executive Director of CDD-Ghana, said the survey indicated that large majorities of Ghanaians (about 70 percent) perceived corruption in the presidency and 77 percent perceived government officials to be corrupt.
"The current levels of perceived corruption at the presidency represent large and significant increases over 2005 Afrobarometer report, which indicated that only a small majority, 56 percent perceived corruption in the presidency and 67 percent perceived corruption among government officials," Prof Gyimah-Boadi stated. The Survey dubbed: "Round 4 Survey," was conducted in March 2008.
The Ghana Police Service was rated the most corrupt with about 86 per cent; tax officials and the judiciary picked the second spot with 79 per cent each; and Government agencies were adjudged the third most corrupt institution with 77 percent rating.
Other institutions mentioned in the corruption rating were; Members of Parliament with 73 percent for the forth spot; elected local government officials and the presidency had 70 percent each for the fifth spot.
Prof. Gyimah-Boadi said perceived corruption at the presidency and among MPs jumped 14 percentage points, representing the highest, between 2005 and 2008. Likewise, that for government officials went up by 11 percentage points.
Perception of corruption of the police jumped up by five per cent; Judges and Magistrates seven per cent; tax officials eight percent; and elected local government officials, 10 percent.
On government's effort to fight corruption, the 2008 Afrobarometer survey indicates that public opinion on has been declining.
In the 2002 survey, a solid majority of 63 per cent said the government was doing well in fighting corruption. By 2005, however, the government's anti-corruption performance rating had declined by 10 percentage points to only 56 percent and currently remains almost at the same level 55 percent.
The Afrobarometer is an independent, non-partisan research instrument that measures the social, political and economic atmosphere in 20 countries in Sub-Saharan Africa.
The Afrobarometer questions cover a range of opinions and attitudes on democracy, governance, livelihoods, macro-economic policy, social capital, conflict and crime, political and civic participation and national identity.
The survey was undertaken in all 20 countries within a 12-month window, and on the average, Afrobarometer surveys take place at two-to-three year intervals.
The first three rounds of Ghana Afrobarometer were conducted in May 1999, September 2002 and March 2005.
Source: GNA