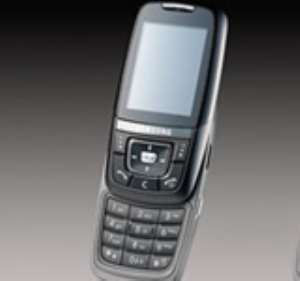 The removal of import duties on mobile phones and fixed telephone sets does not affect phone accessories. Some of the accessories that will not benefit from the waiver are chargers, batteries and mobile phone housing
which will continue to attract Import Duty, Import Vat and all the levies and fees, Mr Emmanuel N. Doku, Commissioner of the Customs, Excise and Preventive Service (CEPS), explained on Thursday at a press conference in Accra. Previously telephones attracted a 10 per cent import duty.
The commissioner said CEPS had begun implementing all the new fiscal measures announced by the government, including the Communication Service Tax Act and the removal of import duties on some commodities.
He said two laws passed by Parliament to regulate the prices of selected commodities came into effect on May 23 and June 16, 2008 respectively.
Under the first Act, Customs and Excise Amendment Act 2008 (Act 756), which came into effect on May 23, 2008, Mr Doku disclosed that Excise Duty Rates were amended on gas oil, kerosene, marine gas oil and premix fuel.
"The second Act, Customs and Excise Amendment Act 2008 (Act 758), which came into effect on June 16, 2008 saw the removal of import duties on commodities including rice, wheat, crude vegetable oil and yellow maize."
He, however, pointed out that some items listed in "Act 758 will continue to attract the Import Vat of 12.5 per cent, NHIL of 2.5 per cent, ECOWAS Levy of 0.5 per cent, Export Development Levy of 0.5 per cent and Inspection Fee of one per cent of the CIF value".
Mr Doku noted that the potential revenue loss arising from the removal and reduction of taxes and levies by CEPS in 2007 totalled about GH¢65 million.
He said revenue from the import sector totalled GH¢554 million compared to a target of GH¢535 million during the period January to May, 2008 indicating an over collection of GH¢22 million or a four per cent increase.
"Petroleum revenue, however, was GH¢173 million against a target of GH¢203 million representing a shortfall of 14 per cent," he stated, and explained that the shortfall in the petroleum sector arose essentially out of the declining consumption of premium, the major revenue raiser.
Some of the measures he hinted CEPS had been undertaking to enhance revenue collection were the introduction of mobile patrol teams, generation of regular reports from satellite tracking and physical monitoring, development of intervening monitoring stations and the use of stickers for transporting vehicles in transit.
He stated that CEPS had introduced a second electronic monitoring system for goods meant for warehouses, Free Zones and Export, adding that a Joint Customs Consultative Committee was also being established to create a forum for stakeholders to provide inputs into improvements in Customs processes and compliance.
That, he explained, would bring more transparency into Customs business.
He appealed to importers and all stakeholders to comply with Customs laws and regulations and desist from smuggling to enable CEPS to generate the needed revenue for national development.
Source: Daily Graphic