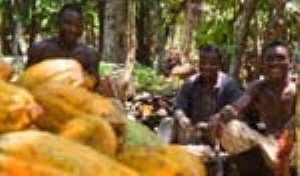 Ghana's 2007/08 main crop cocoa purchases as declared by private buyers to industry regulator Cocobod rose by 12.9 percent year-on-year to 663,558 tonnes, a preliminary tally released to Reuters by an industry source on Tuesday showed.
The previous 2006/07 season's main crop in the world's second biggest grower totalled 587,502 tonnes. The 33-week season officially closed on June 5 but Cocobod continued to receive final returns on declared purchases until June 12.
The main crop, which began mid-October 2007, was initially forecast at 600,000 tonnes, but hopes for a bigger crop have risen in recent months as weekly cumulative purchase figures have pulled ahead of year-ago levels.
Many in the industry have been predicting full-season output of 700,000 tonnes, including around 50,000 tonnes from the light crop which is tentatively scheduled to start on June 27.
Last year's light crop totalled 27,000 tonnes, out of a total harvest of 614,469 tonnes in the 2006/07 season, down from a record crop of 740,457 tonnes the previous year.
Ghana has set itself an ambitious target to harvest at least one million tonnes of cocoa a year by 2010, mainly through increased use of fertilisers and adoption of high-yielding seeds, combined with improved farming methods.