Mourners Shocked At Funeral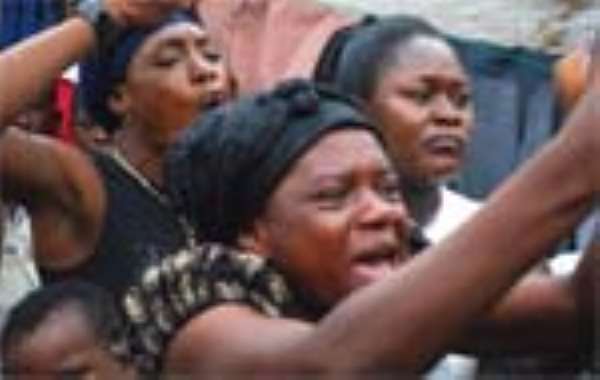 Mourners at Ashiaman near Tema were shocked last Saturday when about 50 women believed to be prostitutes stormed the family house of 11-year-old Moses Tetteh Kassim who was killed in a bloody riot between commercial drivers and the Police at Ashaiman.
The perceived sex workers were part of the large crowd that besieged the deceased's house to mourn with the family.
The women, aged between 25 and 40 years, came in different shapes, sizes and colours.
Noticeably quite a number of them had tattoos on their arms, back and at their waistline, and they drank volumes of alcohol and smoked cigarettes profusely to the shock of the crowd.
Some even followed the body to the Kpone Cemetery while others stayed behind to mourn with the rest of the bereaved family.
Some of them who were virtually drunk would occasionally take to the floor and dance for a while, and then move to a canopy where a picture of the deceased was, look at the image and talk to it as if they could be heard by the picture.
DAILY GUIDE learnt that the deceased used to run errands for the call girls as they lived close to his house.
Mr. Bob Atua, a farmer and an uncle to Moses, told DAILY GUIDE that he was grabbed by an unknown woman when he went out to urinate and when he enquired from her why she had held on to him, she responded by asking him what he was doing near her room when he had not come to solicit her services.
DAILY GUIDE was later shown wooden structures from which the women operate. The paper gathered also that some of them have worked as prostitutes in that area for well over 10 years and were still in business.
By Razak Mardorgyz Abubakar, Ashaiman