Of Street Names, House Numbers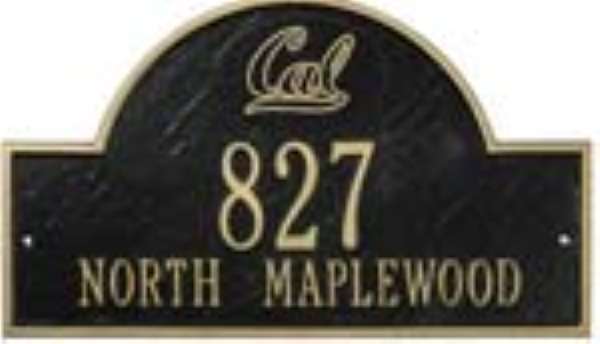 While some fastidious persons may deride the above-mentioned heading at first sight as being trivial, others might even yawn because of its seeming dullness or drabness.
But it is a very serious issue in the management of security in the country and even tourism especially in the nation's capital.
There is no denying the fact that most residents of Accra do not know the names of the streets on which they live.
There is also a high percentage of others who do not even know their residential numbers.
Indeed such persons are usually compelled to make brief but important enquiries from their landlords or even their parents when they are to quote details as in the completion of certain forms.
Such details as street names or even residential numbers are important information which should be at the fingertips of residents.
That is not the case however for most persons in Ghana especially in Accra. It is even worst with taxi drivers.
In some countries, visitors or strangers rely on cabbies for the location of addresses. In Accra as in other parts of the country, streets names, though they exist, only do so on Town and Country Planning documents including town and city road maps.
Many years ago, taxi drivers in Accra only qualified to practice as such after passing a mandatory examination by the then Accra City Council Licence.
It was then referred to as ACC Licence and woe betides a taxi driver who plied their trade without this piece of documentary authority.
In those days, taxi drivers were conversant with street names and important landmarks.
The city authorities had the licence in place to ensure that such drivers were not found wanting in dropping passengers especially strangers at their destinations, besides keeping a tab on those who engaged in this important trade.
In the realm of tourism, there is perhaps the need to take another look at educating our taxi drivers about city addresses so that they can assist our valuable visitors and tourists whose contribution to our foreign exchange earnings cannot be over-emphasised.
Another important area where the subject of accurate addresses and knowledge about them should not be over-looked is in the area of security and disaster situations.
The current very important Police/Military patrols in our cities are not as effective as they should be because of this drawback.
There have been many instances of such patrols getting lost in their attempts to respond to emergency calls by distressed persons or families.
A case in point was at the GREDA Estates in Teshie when a family was under attack by armed robbers. A neighbour managed to call the Kpeshie Divisional Police Command which immediately alerted a patrol team.
The patrol, though responded with alacrity, suffered from the poor numbering and addressing system prevalent in the country.
The same goes for the Ghana National Fire Service whose tenders often waste so much fuel trying to seek sources of calls in case of fires.
Even in Nigeria with a large population and myriad of problems, the addressing system is beyond comparison with the situation in Ghana.
Matters were even messed up further when at a certain time Accra's numbers were changed. The numbers for instance appearing on ECG bills are different from what go for house numbers.
There is a problem and there is an exigent need for the authorities to find a solution to it.
We need to find a way of perhaps naming streets which do not bear any and ensure that residents and taxi drivers including school children get used to quoting them.
It would help us immensely in containing crime and other emergency situations.