Lies over Rosa Whitaker exposed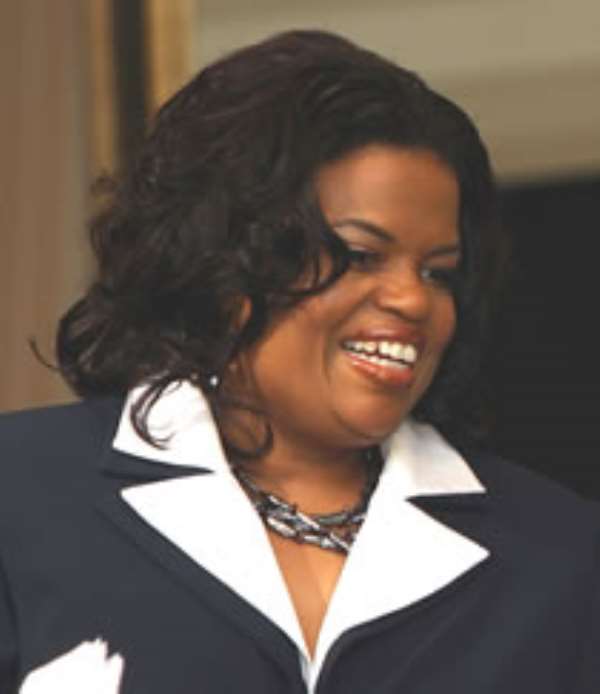 After a failed attempt at destroying Nana Akufo-Addo's successful trip to the United States, The Weekend Crusading Guide has picked up signals of deliberate attempts by some sections of the media to destroy the hard earned image of Rosa Whitaker, the CEO of The Whitaker Group (TWG) a reputable multinational consultancy firm in United States.
Desperate attempts to label Rosa Whitaker, now wife of Bishop Duncan Williams, and Whitaker Group as a political entity, have started backfiring in the face of hard facts of the company's solid track record of assisting and promoting investments for African countries in the past years.
The attempt at thwarting the efforts of The Whitaker Group has been shrugged off like 'water off the ducks back' as the company has resolved to focus on helping needy countries.
"We have a mission to help develop Africa and nothing would distract us from that mission. We take pride in the fact that what we do saves millions of lives in Africa", the Crusading Guide quotes a source from WTG as saying.
TWG helped to arrange the visit and investment of the company that discovered over 600 million barrels of oil in Ghana worth billions of dollars. Rosa Whitaker personally accompanied the President of the US-based energy firm to Ghana, encouraged the off-shore oil exploration and investment and arranged meetings with President Kufuor and other Ghanaian officials.
The Weekend Crusading Guide says it has learnt that TWG accompanied, on several occasions, a senior US agricultural company to Ghana and helped facilitate a $100 million investment in a state-of-the-art cocoa processing facility. This investment was followed by two additional investments from other global agricultural firms of an additional $200 million.
TWG lobbied and provided technical support for the $547 million grant to Ghana by the US-backed Millennium Challenge Account (MCA), ensuring that Ghana was among the first countries that came to Washington to make its case and be selected for the MCA support. This is helping to finance road and agricultural development in the nation.
The group has recently facilitated a commitment by a global company to invest in Ghana's Apparel Sector, which will position Ghana in the community of nations exporting garments to the US.
Upon successful completion of phase one of this project, the company will explore investing in cotton production for total vertical integration of exports made in Ghana. The group has single-handedly helped to provide billions of dollars for many deprived African countries.
It recently brought 15 African medical top shots to the US Congress to make a case for Africa. The result was an increase of funding for African HIV/AIDS and healthcare support approved by the House of Representatives.

Rosa's company has also organized to the West Coast of the US, a Ghanaian delegation to meet with prominent US companies such as Google, Gap, Costeo, Levi-Strauss and Starbucks to promote business linkages in Ghana.

President Kufuor was before the prominent US Economic Leadership Council, an association of US African-American business leaders and the US Chamber of Commerce, the world's largest business organization to promote trade and investment for Ghana.

In 2003, TWG helped to end limited sanctions imposed by the Overseas Private Investment Corporation on Ghana, which was based on a high profile commercial dispute. Resolving this dispute unlocked $150 million in investment guarantees and incentives for the nation.
TWG lobbied for AGOA (African Growth and Opportunity Act) and its expansion, which has resulted in the creation of over 300,000 jobs and billions of dollars in expanded exports from Africa to the US. It again successfully lobbied for MCA and the establishment of US-government backed investment and equity funds for Africa. In fact, for over 25 years, Rosa Whitaker has advocated for Africa's development. She was an architect of AGOA.
TWG is a key source of information in the US about business and investment opportunities in Ghana. They utilize media opportunities to promote Ghana and have helped to facilitate positive media opportunities with CNN, CSPAN, Business Week and other media outlets, including the creation of a GHANA UPDATE newsletter, which is distributed by email to over 8,000 global leaders bimonthly, encouraging them to partner with Ghana and business leaders to build the country.